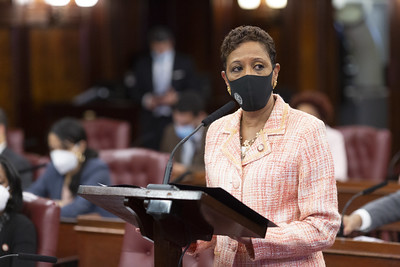 By JOANPOL GUTIERREZ
After a Rise in Gun Violence, Criminal Justice a Focus at NYC Council Meeting
Council Speaker Adrienne Adams opened her first Stated Meeting the New York City Council Feb. 10 saying they had to focus on gun violence. "We must confront this challenge now and always," she said. "This crisis Is not new, especially in communities of color." She is also the first African American woman to ever be elected for the position and leads a council which is majority women.
Adams began her speech by giving a tribute to Jason Rivera and Wilbert Mora, the two police officers who were killed in Harlem going to a domestic violence call on Jan. 21.
But policing is only one part of the equation, according to Adams. "Bringing an end to this violence requires a multifaceted approach which requires comprehensive solutions," she said.
The focus should shift to preventing crime before it even occurs by "investing in community-based safety solutions, violence prevention programs, mental healthcare and crisis resistance, and a range of other communities' investments that promote the well being of all of our neighborhoods." Adams explained.
Furthermore, there has to be an investment into the health and stability of New Yorkers. "Especially those at greater risks of experiencing violence because of where they live," she said. Adams also said that young people must be provided with education and employment opportunities.
While her speech was centered on how New Yorkers need to join together to fight crime and violence, the meeting ended with a set-to between Council Member Charles Barron (D. Brooklyn and Council Member Kalman Yeger (D. Brooklyn) over approaches to crime reduction.
Barron attacked Mayor Eric Adams who had spoken in the state capital the day criticizing the reduction of cash bail for non-violent crimes that had been passed by the legislature last year. Adams, in his speech in the state capital, brought up the case of an 11-month old baby who was shot by a stray bullet.
"Mayor, you should feel ashamed of yourself. To use the blood of an eleven month child, the blood of police officers and other innocent people who were killed to try to push back on no cash bail," Barron said. "For the mayor to get up there and use the blood of innocent people to manipulate you emotionally and to tell us to debate the mother, not him, that is unconscionable and totally unacceptable."
Council Member Kalman Yeger attacked Barron. "What [Adams] said is that he wants there to be a dangerousness standard that a court can look at whether or not somebody is too dangerous to put back out on the streets." Mayor Adams does not want to "lock people up" and he is not using the blood of innocent people in order to push his political agenda. "If anybody is in this building and feels like showing up and having a conversation with the mayor, this mayor has shown that he is willing to have a conversation with the members of this council."