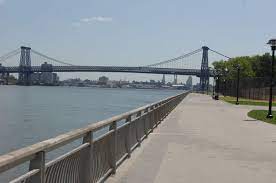 By SUSAN NUNEZ
Mayor Bill de Blasio announced on Thursday the launch of a  $1.45 billion facelift to East River Park to add flood protection measures to the 2.4-mile tract stretching from Montgomery Street to East 22nd Street.
"We've gotta remember what we went through with Super Storm Sandy," said de Blasio at his daily press briefing. "It gave us a warning that worse might be coming if we don't get ahead of it,"
The project is jointly funded by the city and the federal government and is designed to combat an anticipated rise in water levels from climate change.
The five-year plan would consist of such measures as raising the elevation of East River Park by 8-10 feet of fill, installing flood walls, and reconstructing the waterfront, with amenities such as ball fields, tennis courts, soccer, track and field, basketball courts, playgrounds, picnic and barbecue area and comfort stations.
But some locals have been unhappy saying the project will reshape and shut off access to parts of East River Park, eliminating the only large outdoor green space they have for recreation and health.
City Councilwoman Carlina Rivera tried to allay their concerns.
"I have so many memories as a child," she said. "East River park was an escape for me, I played little league and learned how to ride my bike there. I can't wait to see families out there in the new East river Park and in the meantime East siders can use half the park throughout construction."