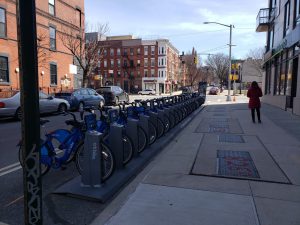 By Salamat Ellam
When it comes to the Citi Bike fire incident that happened last Sunday in Brooklyn, Brooklynites are willing to give Lyft, who's the owner of the Citi Bike, a second chance.
"It's easier to rely on Citi Bike than the MTA," said Joel McDowell. He said that even with the recent apps provided by MTA, sometimes he has to wait for trains and buses longer than expected.
Some were disappointed but said they believed Lyft can rectify the issue — new batteries that caught fire — and make bikes safe for  everyone.
"Citi Bike is a fairly new venture," said Brittny Clark, 37 and a school teacher. "Mistakes are bound to be made – as long as no one gets hurt."
Some seemed more interested in the $2 increase in bike rentals than the safety aspect. Jaime Velez, who lives in the Bronx, has family in Brooklyn. When he goes to visit his family in Brooklyn, they all go riding. "It already cost me a penny to travel from the Bronx – I don't need the extra cost," he said.
Carmen Carde explained how she used to rely on Uber but now uses City Bikes to commute to work. It's all about changing New York, she said.