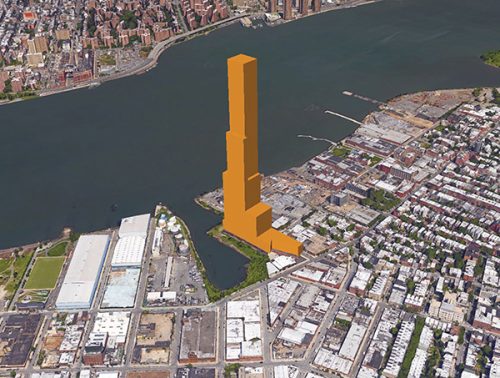 BY: ANNABELLE PAULINO
Brooklyn Community Board 1's Parks and Waterfront Committee met Feb. 17 to discuss the 40 Quay Street development located along the northern border of 27-acre Bushwick Inlet Park. They will meet again in April to make their recommendations, but they already had voted down redevelopment of that area in 2019 in a non-binding vote.
The Metropolitan Transportation Authority (MTA) proposed the sale of its mobile truck washing facility property at 40 Quay street in Greenpoint for residential development in May 2019. It would be a $39 million deal between the MTA and Gotham, the developer, if he succeeds in changing the zoning to allow residential towers on 40 Quay St.
The Monitor Point proposal, as it is called, consists of eight components; 900 units in a 40-45 story tower with 25% permanent affordable housing, including units for seniors; 100,000 square feet mixed retail/commercial space; significant public access to open space; a waterfront promenade connecting Greenpoint and Williamsburg waterfront; a new mobile truck facility in East Williamsburg (Varick Ave); new proposed turnkey facility for MTA's Emergency Response Unit (ERU), and a permanent home for Greenpoint Monitor Museum.
 Friends of Bushwick Inlet Park (FBIP) – a community-based advocacy organization dedicated to the development, stewardship, and programming of the Bushwick Inlet were outraged with the Monitor Point proposal. The land is a state-owned property which the developer Gotham wants to upzone, increasing the density that is currently allowed to be built on this property.
Greenpoint and Williamsburg have the greatest density of new development in New York City with 21 thousand new housing units being developed in these two neighborhoods.
Katherine Thompson, co-chair of Friends of Bushwick Inlet Park, who spoke at the committee meeting, pointed out that 40 Quay Street is publicly owned land, "For the price that the MTA is getting for developing this public property in a neighborhood overwhelmed with development, the city could get a bargain on waterfront land that would be a critical addition to vital park space," said Thompson.
The Parks and Waterfront Committee wants the MTA to withdraw from the "conditional designation" of Gotham for the redevelopment of 40 Quay Street and to work with the Greenpoint and Williamsburg community to transform this waterfront site into a sustainable public space.
Back in November, 2019, Community Board 1's Parks and Waterfront Committee voted  32-0 against the MTA's RFP–a "request for proposal" to sale or lease 40 Quay for residential development.  Despite the opposition of the Parks and Waterfront Committee, on October 2021, the MTA approved a proposal bid by the developer Gotham Organization called Monitor Point.
The development on 40 Quay St. poses concerns, according to Stephen Chesler, co-chair of FBIP. He is worried about the construction of such a massive structure and the increase of wastewater overflows that can have a negative impact to the ecosystem with various species that live there.
"Bushwick Inlet itself is this beautiful and unique embayment, an ecosystem with various species of waterfowl, mergansers, buffalo heads, and we have the oyster project in the process of restoring oysters, flora and fauna–native plants that are sustaining wildlife," said Chesler.
The development is in the process of a Uniform Land Use Review Process (ULURP), which is a step-by-step approval process that large developments need to go through, going all the way up through the City Council and mayor. The Parks and Waterfronts Committee has a non-binding vote to be submitted within 60 days. Then, it moves to the Borough President who has 30 days to recommend a comment where they are both non-binding votes.
It then goes to the City Planning Commission, where the developer Gotham has to apply and be pre-certified with an environmental impact statement.  If the City Planning Commission votes down, the project would be dead. If they approve, it is up to the City Council to vote on it.
"After five days, the City Council votes. There's an environmental review that outlines the environmental impact of those actions, which is associated with dealer factions," said John Douglas, director of land use for Brooklyn Borough President Antonio Reynoso.
"It is a major flood zone," said Chesler, as he showed the committee a flood map that extends itself 100 years from now. "By 2050, nuisance flooding is just going to be normal flooding on a regular basis. The idea of putting people in these large structures in the middle of that is mind boggling," he said.
Before the committee's 60 days are up, Friends of Bushwick Inlet Park plans to submit a recommendation which entails a defense against sea-level rise and climate emergency showing examples of Hunts Point Wetland, Living Breakwaters at New York Harbor, and Lower Manhattan's Resilience Plan structures that have been built for defenses against sea-level rise.
In addition, the committee is recommending making the area greener to sustain what already exists at 40 Quay. "It's going to be a continuing ongoing story. There's going to be a big community resistance campaign. That's going to be coming out very soon," said Chesler.
Community Board 1's Parks and Waterfront committee's next meeting will be in April and they will weigh in with their recommendations, but the process is ultimately with the City Planning Commission, City Council and ultimately, the mayor.