By PAUL FRANGIPANE
 Amid financial investigations into the City College of New York, Interim President Vincent Boudreau is looking to promote financial transparency and increase college morale.
 "It's important particularly at a time when the campus may have been discouraged or dispirited to step into the role and provide a voice for the campus," Boudreau said in an interview in his office looking out onto the campus.
 He has been at City College for 25 years, his entire career, working as a professor of political science, director and dean of various programs and most recently the dean of the Colin Powell School for Civic and Global Leadership. Boudreau stepped into the interim president role in November when former President Lisa Coico resigned almost immediately after The New York Times questioned the use of $150,000 in college funds.
 Coico and the 21st Century Foundation, a nonprofit fundraising organization affiliated with the school, reportedly are under investigation by federal prosecutors.
 Boudreau said he hopes to use his time in the spotlight to introduce new thought on the college's finances and to tap into the voice of the students to ensure they stay engaged.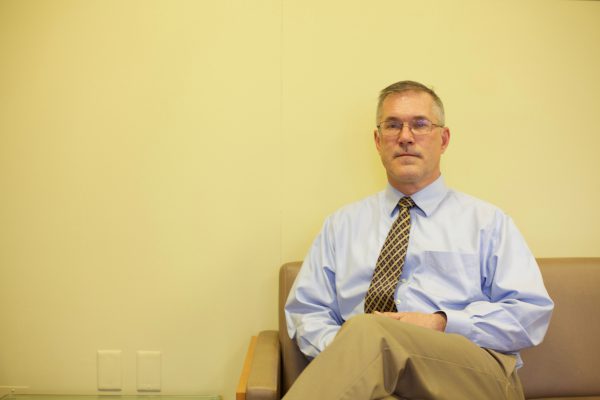 "At City College, someone's always going to be in the hot seat. At the moment, I don't mind it that it's me," he said. "You can't ignore something that needs to be fixed, but on the other hand, you've got to be relentlessly promoting the good things about your school."
 "If students are paying attention to Twitter, then that's where my voice is going to be," he said.
 While Boudreau says investigations have benefits, it's a difficult time at the college. A Feb. 21 New York Times article suggested that administrators at CUNY schools are misusing donations to non-profit organizations connected to individual colleges while the students, of whom more than half have family incomes of less than $30,000, are being shortchanged.
 The Times reported that Boudreau released documents in response to a Freedom of Information Law request showing that in fiscal year 2015, 21st Century Foundation gave $2.35 million in salary supplements to dozens of people, including $160,000 to Coico and $38,790 to Boudreau. He posted the documents on the web voluntarily.
"The idea that there's this money that should have gone to scholarships that's being taken and given to administrators is, is something not accurate," Boudreau said. "The real question I think is, 'is money that was designated for students being re-purposed?' and the answer is absolutely not. And I don't think it was re-purposed under the old administration either."
Being in a temporary position forces Boudreau to focus on the short term, but he is "strongly considering putting an application in" for the presidency.
"If I'm not president, I go back to being Colin Powell School dean. I'll be thrilled to do that. I love my work there," he said. "And if it happens I'm in this job, then there's no after. I'll just keep doing this work."