By Carolann Lowe
Charles Cooper testified before the Campaign Finance Board (CFB) as he answered a long list of violations slapped on him after his unsuccessful run for a seat on the City Council two years ago.
He blamed a technology application used by his campaign and that app led to failure of transactions to be filed. He and his workers were unaware of the app's shortcomings, he said.
"If I had knew that, we would have never used that app," he said.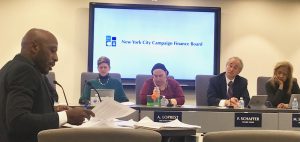 Cooper ran in a New York City Council district covering upper Manhattan, including Harlem. Cooper's ten alleged violations included failures to document outstanding liabilities, report transactions, demonstrate compliance with cash receipts reporting and other required actions.
In addition, he allegedly accepted contributions from corporations, accepted over the limit contributions, and had a petty cash fund greater than five hundred dollars.
The CFB held its meeting on Thursday so that Cooper could testify, answering the charges against him.
The CFB provides public funds to New York City Council candidates by using the matching funds program in which every $10 contribution from a New York City resident within the district that the candidate is running for will gain a $90 contribution for the candidate from the CFB.
Candidates taking part in a campaign are required to document their expenses and assure the CFB that candidates did not misuse funds.
Most of Cooper defenses had to do with asserted technological mishaps. He revealed that vendors such as UPS were unreliable in terms of the inaccuracy of their online tracking. When he looked for the tracking information, it had displayed the words "status not available," he said.
He also said that his campaign staff failed to provide alternative and simple filing options. "It takes a while to adapt to technology," he said.
Cooper said the fault was in his and his team's inexperience and lack of knowledge about campaigning. "Plain and simple, this was our error," he said. "Looking back in hindsight we will probably be better at this . . . "
Following Cooper's testimony, the board determined that he must pay a total penalty of $5,296.
Other candidates had been cited by the CFB. New York City Council candidate Alison Tan of Queens and Borough President candidate Everly Brown, also of Queens, did not appear at the board meeting. In the races two years ago, both candidates lost.
The board determined that they had committed violations and assessed penalties for those violations. The candidates will be required to pay those penalties, which amounts to $715 in total for Tan and $6,725 for Brown.