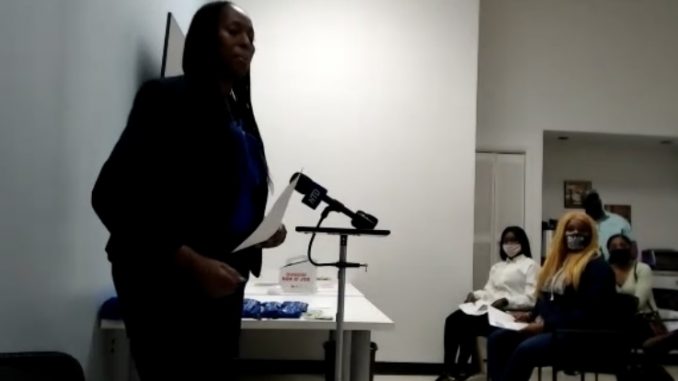 By ZHAYRON NELSON
At Restoration Plaza in Bedford Stuyvesant, Brooklyn, there was a call for fentanyl test strips to made be available at nightlife venues.  The leading voice was Phoenix House, an organization founded in 1967 that helps people overcome drug addictions.
This call to action comes after an increase in fentanyl deaths. Last year there were more than 1,446 fentanyl deaths in New York City. Because the drug can easily be mixed with other drugs, such as heroin and cocaine, drug users generally have no knowledge that fentanyl is in there. The push for change comes after these increasing deaths — and the recent high-profile death of celebrity Michael K. Williams, who died from an accidental fentanyl overdose in his apartment.
Present Thursday at Restoration was Ann Marie Foster, president of Phoenix House New York and Long Island.
"Every five hours somebody dies of an overdose in New York City, but accidental overdose deaths are preventable," Foster said. "As overdose deaths continue to ride and fentanyl's prevalence grows, it's crucial that anybody who is using drugs has access to the tools they need to keep themselves safe."
According to the website harmreduction.org, Fentanyl is a synthetic opioid that is about 50 times more potent than heroin. People use fentanyl because it is cheap. A small dose can hit the user quickly, like a super-charged injection of heroin.
Many don't even know that fentanyl is in the batch of drugs they purchased.
Fentanyl testing strips can identify the presence of fentanyl in drugs. If fentanyl is present, users can then seek some appropriate harm reduction strategy, reducing the risk of overdose.
Phoenix House is calling on the city to make fentanyl test strips available for free at all nightlife venues.
Democratic City Council candidate Chi Oseé showed up at the Restoration Plaza gathering. "We're advocating today for access to testing strips, which will save many lives if we give them to bars, clubs, and other establishments where drugs are used," Oseé said.