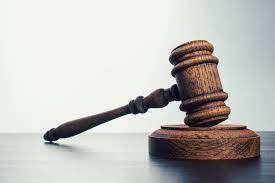 By SUSAN NUNEZ
A Bronx woman was arraigned on Thursday, accused of stabbing her boyfriend to death when he tried to walk away from an argument they were having.
Yarelis Olmeda, 41, allegedly stabbed Edward Campos in his shoulder, causing him to bleed profusely and fall to the ground as the defendant fled the scene, police said.
"We will seek justice for the victim and his family, who lost their loved one due to domestic violence," said Bronx DA Darcel D. Clark.
The incident occurred on February 20, when a 911 call brought police to the scene at 1710 Randall Avenue in the Soundview Houses where the victim lived. He was taken to Jacobi Medical Center, where he died nearly three weeks later, authorities said.
Olmeda was indicted for second degree murder, first degree manslaughter and criminal possession of a weapon before Supreme Court Justice Albert Lorenzo.
The defendant was jailed and due back in court on May 19.