By FARAZ T. TOOR
Two girls of Pakistani descent walk into Raheela Beauty Parlor at 1117 Coney Island Ave. They're teenagers, and are dressed differently than many of the workers in the beauty parlor. Instead of shalwar kameez, traditional South Asian dresses, or jackets covering shalwars, they wear regular shirts and pants.  They ask in English for facials; there's no Pakistani accent, but a Brooklyn one instead.
Raheela Aslam, owner of the beauty parlor, sits in a black chair. She wears a stuffy black winter jacket and has a cell phone in her hand in a bright, pink case. Her red hair falls to the small of her back. Her jacket is open; a polka dot shalwar is underneath it. She spoke with a soft, slow Pakistani accent moments before the girls entered her store.
But she nods to the girls' request. English or Urdu, it's all Pakistani. Such is the life of Little Pakistan on Coney Island Avenue: Immigrant or American-born Pakistani, the area absorbs both.
Little Pakistan is the largest Pakistani community in New York City. Once primarily a white neighborhood, today it is almost entirely comprised of Pakistani immigrants and Americans of Pakistani descent—mostly the children of the immigrants.
These Pakistani-American children, though, aren't abandoning their culture. Many are staying in the neighborhood, and embrace their Pakistani culture. Their community is growing once again.
The neighborhood has grown in the last few years after an exodus of many residents following the federal government's immigration crackdown after the September 11, 2001 World Trade Center attack. Pakistanis are returning to the neighborhood, both the immigrants and their children. They see living in a community with so many Pakistanis as only logical.

They have settled on a stretch of roughly one dozen blocks on Coney Island Avenue between Foster Avenue and Avenue H, in the Midwood section, drawn because Brooklyn's Little Pakistan embodies the spirit of the native country more than any other Pakistani neighborhood in New York City.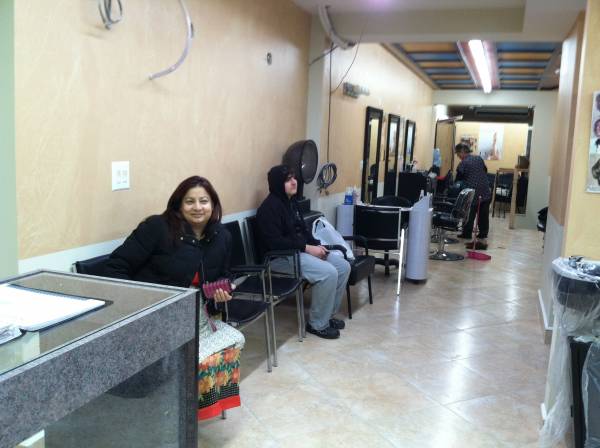 From the moment you cross over onto Coney Island Avenue from Foster Avenue, it feels like you're in Pakistan—specifically Lahore, the second-largest city in Pakistan, with a population of more than 5 million people, and the area from which many of Little Pakistan's residents hail. Dozens of Pakistani stores are on every block and cater specifically to their people. There are some signs of the American influence—a halal fast-food store, for example—but the halal meat shops, jewelry stores, and more are very much like those of Lahore.
In any direction, the Pakistani culture really pops. Stands for Pakistani newspapers are on the corner of one block. Sari stores are no more than 100 feet from each other, and in one stretch close to the corner of Foster and Coney Island avenues, are no more than 15 feet from each other. Many of the store signs are in Urdu and English, and some even mix the languages together. Rao Wireless, Kangan (bangle) Jewelers, Jhankar Money Transfer, Ar Razaq Fabrics Corp., are just some of the examples.
But the children of the Pakistani immigrants don't reject the culture; they fit right into it all. "It brings me closer to home," said Sana Khan, a cashier at Farrah's Gold and Diamonds, a jewelry shop in the neighborhood.
Khan is the daughter of Pakistani immigrants. Like the girls who walked into Raheela Beauty Parlor, she doesn't have a hint of a Pakistani accent. She's wearing no sari, shalwar, or anything that resembles traditional Pakistani clothing.
Yet she works at a store that sells a wide selection of Pakistani jewelry.
Khan said she had a taste of Little Pakistan for years before she started working in the community. She gladly visited family in the neighborhood. "It brings me closer to my identity," Khan said. "There's a huge community here."
Pakistani-Americans—with thick Brooklyn accents and wearing tight jeans and shirts—constantly walk down Coney Island Avenue in groups and alone.  A sports car driven past has its windows open and blares music with strong speakers. The ground within 50 feet of the car shakes—but shakes with Pakistan's music. A Pakistani flag decal adorns the back of the car. In Pakistani restaurants throughout the neighborhood, the customers are a mix of Pakistani immigrants and American-born residents.
"Kids [are] getting married and they're staying," Mohammad Razvi, the executive director of the Council of Peoples Organization, or COPO, said in a telephone interview. Razvi lived in Little Pakistan for more than 15 years and was part of the early wave of Pakistani immigrants in the neighborhood. In February, 2002, he founded COPO.
"I know so many kids getting married this year," he said. "At least 10 kids I know got married, and they still want to stay in the neighborhood."
The "kids" are the children of the Pakistani immigrants. Razvi said that some of them, after marrying and deciding to settle in their parents' community, are having children of their own, wanting to be a part of the thriving neighborhood.
 For a neighborhood so densely Pakistani, however, it has come a long way in just a few decades. According to Jerome Krase, a sociologist and professor emeritus at Brooklyn College, the community was predominately white less than 40 years ago.
"The Coney Island Avenue area has had a Pakistani population since the 80's," Krase said in a phone interview. "The Immigration Law changed in [1965], so people could move to the U.S. more easily."

"It was more Italian, more Irish, Jewish. Even the mosque we used to have was a synagogue before," Razvi said.
Aslam, a Lahore native, has lived in Little Pakistan for the last 20 years since she brought her beauty parlor from Pakistan. She said the neighborhood was hardly bustling two decades ago. "Less busy back then. Less stores," Aslam said through a translator.
The few stores in the area were crucial to the Pakistani population back then. They relied on the few beacons of their culture in a new country. Cab drivers wanted a hangout spot to grab a Pakistani meal, and residents wanted a grocery store that had amenities from back home.
In time, though, more businesses followed. Punjab Restaurant and Punjab Grocery, the cabbie spot and the Pakistani grocery store, respectively, were some of the first businesses that in the 1980s broke the ground for the wave of stores to come in the next few years, such as Raheela Beauty Parlor.
And with new businesses—many of which Razvi's family opened—even more Pakistanis flocked to the growing neighborhood. The Pakistani population in the neighborhood and in Brooklyn has shot up significantly since the genesis of Little Pakistan. According to census numbers, Pakistani immigrants in Brooklyn totaled 4,949 in 1990, just as Little Pakistan was getting its legs; the number rose to 9,903 by 2000. Then it almost doubled to 18,296 in the 2010 U.S. Census. Some 4,542 of these Pakistanis live in the Midwood-Flatbush area.  Immigrants from Bangladesh also make up a significant portion of the neighborhood's population
"When they got off JFK—the Pakistanis and the Bengalis also—they want to come to Brooklyn first," Razvi said.
While Pakistanis make up a tiny part of the larger Flatbush/Midwood area (2.8 percent in the 2010 census), they are the largest of the Asian groups in the neighborhood.
"Visually there's a lot more Pakistanis than 10 years ago," Krase said. "There's more diversity in shops now."
"This community is mostly Pakistani stores," Sajjad Butt, owner of Bismillah Halal Meat and Food, a Pakistani grocery store, said.
"At nighttime you see a lot of desis [South Asians] here," Sufi Iqbal, a cook and server at Punjab Restaurant, said.
But Little Pakistan's growth hasn't been steady. It ran into roadblocks before it became an attraction to Pakistani-Americans today. The community's population and growth decreased after 9/11. In the wake of the attacks, the federal government began inspecting residents' immigration status for the Homeland Security Department's Special Registration program, according to residents and news reports. In a community where many of the Pakistani immigrants were in the United States illegally, some were deported, while some left by choice due to fear and government pressure.
"It was pretty immediate," Krase said about the FBI's searches after 9/11. "During that period, at that time if you were Muslim you were under suspicion." Krase said the NYPD even went undercover in the mosques, hoping to catch potential terrorists.
People "had no papers, were here illegally," Hassan Ali, manager of Gourmet, a Pakistani bakery, said about some of the former residents.
"After 9/11, everyone was blaming each other's agencies," Razvi said. "All these agencies sent out their people, their agents. So any name that matches with some name they were looking for . . . they go knocking on doors looking for 'Mike Smith,' and they'll take 'John Doe' and everyone else.
"Everyone had a book thrown at them," Razvi said. " 'Hey, you didn't file this paper 10 years ago,' " he said, imitating a federal official.
Razvi said there was great fear in Little Pakistan at the time because of the government pressure.
"A lot of people said, 'You know what, I'd rather move,' " he explained. "Some people changed their names. Many women stopped wearing scarves . . . People were trying to fit in, especially kids."
The expanding Pakistani population and businesses in Little Pakistan suffered almost instantly. "The population was growing and then 9/11 happened," Krase said.
An estimated 8,000 Pakistanis were deported or voluntarily left the Midwood area after the Special Registration program was enforced, according to The New York Times.
"We had a lot of people leaving," Razvi recalled. "We had almost 30 stores shut down."
"After 9/11, a lot of change," Butt remembered. He said half of the businesses in the area were lost.
But time only helped Little Pakistan. Eventually, the pressure of the Special Registration program eased and vanished as more time elapsed since 9/11. Little Pakistan has grown in the last few years, as if it is making up for lost time.
A few stores down from Al-Makkhi Masjid, one of the community's mosques, is Gourmet, a bakery restaurant that opened in Little Pakistan in 2006. Like Raheela Beauty Parlor, it was originally a business in Lahore. It looks cleaner and more professional than a lot of the other stores in the community. Its bright, orange sign has ornamented, italicized letters to spell out the restaurant's name.
Go inside, though, and it's hardly different from the rest of the stores. Mithai (various South Asian desserts) entice customers through the clear glass counter, in a variety of colors and shapes ranging from the glazed brown gulab jamun, a honey-glazed ball of dough and milk; the white barfi, a dessert of condensed milk and sugar that is solidified into a bar; and the famous laddu, gulab jamun's orange-colored flour-based friend. Five feet above the sweet display is a flat screen television—but a television that, like every other television in Little Pakistan, plays either news from a Pakistani channel or a Bollywood movie music video. Someone could go to almost any other restaurant in Little Pakistan and see the same style: Pakistani culture all around.
"Last three, four years, it's been growing," Ali said about the neighborhood.
The growth only continues in Little Pakistan. Krase said that in 2010 there were many fewer shops in the neighborhood than today.
"Business is good," Aslam said. "More and more Pakistanis will be here."
The children of the immigrants are already proving Aslam right. And they find a common ground with their parents and fellow Pakistanis who were born in the native country: they have a sense of unity with their fellow Pakistanis.
Aslam picks up her phone in its bright, pink case and speaks to a customer. It is all business—who's getting a facial, what her rates are—but it's all the same: mostly said in Urdu, for Little Pakistan, for Pakistanis.
Photos: Top, Raheela Beauty Parlor may provide the same services any beauty parlor gives, but its Pakistani flair is evident. Faraz T. Toor photos.