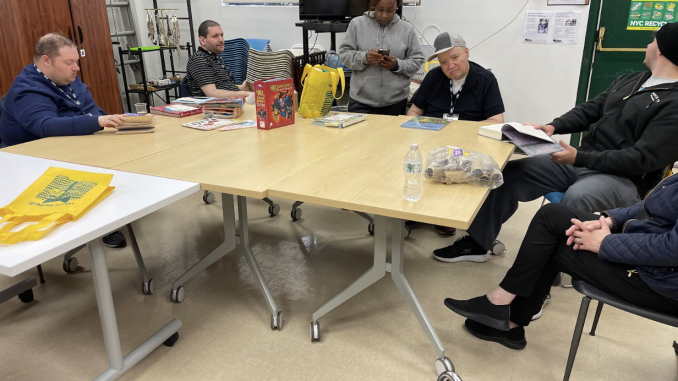 BY WILLIAM HERNANDEZ
On April 19, the Sheepshead Bay Public Library hosted artist and instructor Oleg Ovcharenko and his hand puppet class. The session is a multi-week class aimed to provide arts and crafts time to adults with disabilities.
The arts and crafts class was exclusive to a group of adults with special needs from, AHRC NYC Stephen B. Siegel (Adult Day Services). This group, composed of people who are neurodiverse, were gathered in a private workshop room where they were able to read books, use library computers, and engage in Ovcharenko's hand puppet class.
The participants were tasked with brainstorming what their ideal hand puppet would look like before ultimately constructing it out of provided materials, and sharing their final products with the rest of the class. It was an engaging and entertaining experience for adults with disabilities, but it represents more than just fun.
"It's an opportunity for our students to express themselves and to have a creative outlet," said Robine Philippe, a Community Support Professional with, AHRC NYC.
Many of these adults with disabilities are regular attendees of the program that come from homes and environments void of the opportunities presented to them through the program. Sometimes, these experiences are their only time to access amenities such as wifi and computer access – things taken for granted by many.
"Our students look forward to trips to the library. Many of them don't have computers at home, so the library provides them with the ability to express themselves in the specific ways they want," said Philippe.
The ability to provide these special needs individuals with a sense of purpose and independence is what makes these efforts worth it to those involved.
"What I teach them is simple – let your heart inspire your art. Look around at what they have been able to create," said Ovcharenko, as he pointed around the room at various artworks. 
Ovcharenko does more than just lead this hand puppet class. He is also the lead instructor of other arts and crafts programs done with the support of the Brooklyn Public Library such as "Face and Flowers," where participants learn to create flower paper panels and other art decor pieces. 
While Ovcharenko is busy with the multiple arts and crafts programs he teaches, he doesn't see it as a burden.
"He works with them side by side, he is super creative and even helps them to learn basic skills outside of art such as reading, writing, and basic manners and etiquette," said Philippe.
Ovcharenko's influence is evident once you step into the Sheepshead Bay Public Library. His artworks and those of his students adorn the walls of the workshop rooms, proudly. 
Beyond that, the students are always happy to interact with him.
"He teaches us how to have fun with the art, and I love to play the games," said Omar Atieh, one of the class participants.
For many like Atieh, programs and services that allow individuals such as himself to express themselves, are priceless.