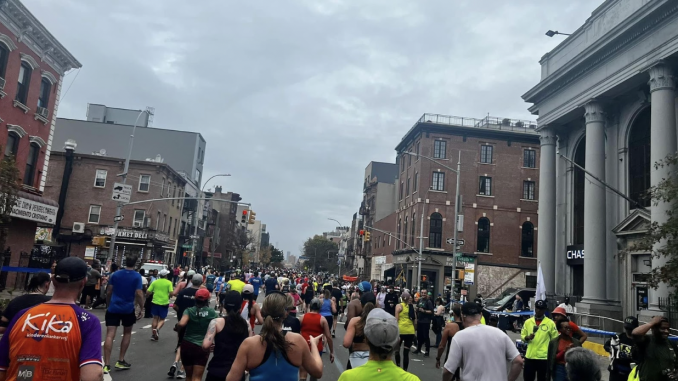 BY TANESHA THORPE
After being canceled in 2020 and limited in 2021 due to the coronavirus epidemic, the largest marathon in the world – the TCS New York City Marathon – returned in full form this year. On the 26.2-mile course on Sunday Nov. 6, more than 50,000 runners traversed all five boroughs of New York City.
Brooklyn was prepared and ready with full energy, Despite the unseasonably warm temperature, spectators continued to chant and support runners to keep their spirits and will high.
The temperature in New York reached an unexpected high of 74 degrees by 11 a.m. – one of the warmest days for the race since it moved to November in 1986. 
"We came with our sign, water, and some wine because we're giving good vibes and we want them to know they have us even if we're not running," said Liza R. Boller, who came to cheer her sister on in her fourteenth marathon near the 15-mile mark.
Others also came in support of friends and family, and were excited that the event is back up and running.
"I'm so happy that we get to have this again. The pandemic ruined so much and this is good to get people's morals back up as New Yorkers because there's no way you can't feel the good energy out here in Brooklyn," said Brookly resident Anthony Vargas, who cheered near the 15-mile mark.
Dancers, drums, and even some loud cheering supporters lined the sidewalks and played music from all around the world. Dancers held up signs saying,"Let the rhythm push you" and "Keep the beat alive" while runners passed.
Erica Tannenbaum has lived in Brooklyn for over 40 years and said she enjoys coming out to cheer on the runners.
"This is the first year where I'm enjoying myself so much, and I'm so happy to be out of the damn house. So I'm gonna dance and shake all day if it helps push them to the finish line," Tannenbaum said. 
Many others like Tannenbaum, who've lived in Brooklyn for years, felt the same way and came out to support and push runners to keep going.
"If you didn't have a reason not to come out, then why not come out and show that Brooklyn Support," said Brianna Rivera, who came with a group of 10 friends to support the runners. Staying near the 15-mile marker in Williamsburg.
"We don't know anyone running, but we figured it would be a great experience to have and create memories while taking in the weather and all this great energy that everyone is giving out," Rivera said.
Her group chanted and cheered while runners went by and gave high fives. While also taking pictures to capture the moments.
Some spectators set up water stations for runners to stop, as well as cloths to dry their faces.
With the weather being so humid, it did cause a lot of runners to face more challenges than expected.
"We've had runners stop right in front of us and we cheer them on to keep going. The weather is nice for us but it's causing a lot of them to get dehydrated way faster and push themselves harder," said Boller.
But that still didn't stop the Brooklyn crowd from supporting every runner that passed. 
"The runners have so much to focus on, so if us chanting, dancing, and supporting them distracts them from the pressure of finishing, then I'll be here doing it all day," said Rivera.