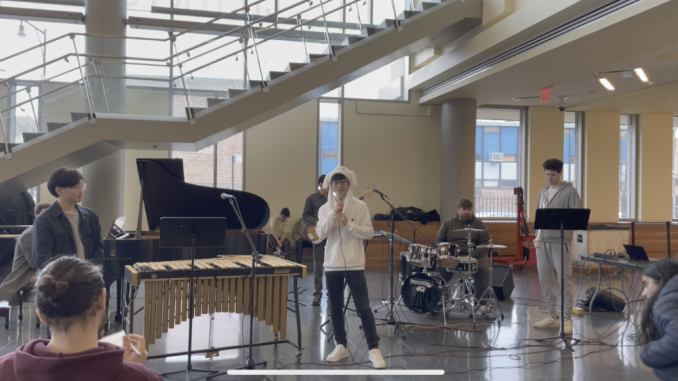 BY LUIS MONGE
Brooklyn College hosted a composers concert which played original musical pieces by composers. Taking place at the Atrium of the Tow Center, shared their thoughts behind the original music they made and explained the meaning to what they created.
Speaker Gidong Kim opened up how this would be the second time this event is being hosted.
"This is the second one after the pandemic," Kim said. 
The musician, who announced himself as "Z," is a piano performance, music composition major, and jazz musician. As part of the band Chicken Combo, "Z" shared the meaning behind his music. 
"I've been composing a piece for each of the twelve Chinese zodiacs. Basically, I just kind of figure out different methodologies of legends from Chinese culture and as part of my heritage. I just compose a piece based on any instrument I want and then I put it together with my band. This is the year of the rabbit so I composed a rabbit piece," "Z" said. 
Eduardo Palacio shared how he ended up learning to play the guzheng instrument, which he performed. It is a Chinese instrument that is a hollow flat wooden base andis composed of many strings called Dunhuang. 
"Well I play a lot of instruments like piano, guitar, base, cello, and then eventually during my time at Brooklyn College I got to meet a lot of Chinese students that are interested in the culture and the language. Then eventually after learning the language I was interested in the music and then I picked up this instrument," Palacio said. 
Palacio shared  how he started performing at Brooklyn College and what his favorite part is about using a guzheng.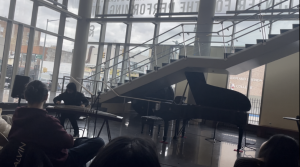 "I came to a concert at Brooklyn College and the president of the composers invited me and said, 'oh you should join us,' and it was very exciting for me because, during the pandemic I couldn't perform at all," Palacio said."My favorite thing about the guzheng is expressiveness because it's not like the piano where all the pitches are fixed while the guzheng you can bend the pitches and that's what makes it very expressive." 
After Palacio finished his performance with the guzheng, Kim concluded the event with an announcement talking about future plans for more composer concerts.