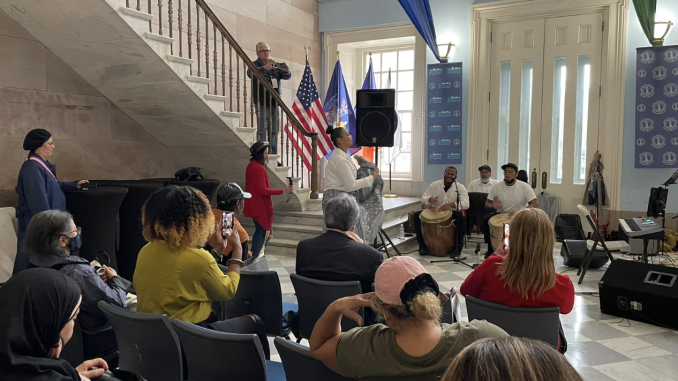 By ALANIS GUINADA
On Oct. 13 at Brooklyn Borough Hall, the sound of Latin Beats rumbled throughout the building. Guests at the Latino Heritage Celebration – hosted by the office of Brooklyn Borough President Antonio Reynoso – danced and enjoyed the live DJ and a six-piece jazz ensemble.
A few organizations that partnered with the Borough President's office for the event were Ponce Bank and Jazz Foundation of America. At the Ponce Bank booth, staff involved the crowd in activities and distributed free gifts like pencil cases and water bottles.
Borough Hall also had their own booth set up to accommodate the guests with snacks and drinks as they entered the event and participated in the activities. 
As the band was warming up to perform, many of the organizers of the Latino Heritage Celebration were walking around, answering questions, and engaging the crowd for the show to come. Latin beats played over a speaker as eager participants took their seats.
Julissa Vale, Director of programming for Downtown Brooklyn, was on-site making sure everything was running smoothly, as she was in charge of getting all of these organizations to come together and create an enriching celebration. 
"We need representation at all levels, that's why these events are so important," said Vale, who partners with organizations all over the city to have events like these in order to celebrate cultural differences and what brings us all together. "Listen and we will hear our similarities."
In attendance was Brooklyn Borough President Reynoso, who shared a few words with the crowd about the importance of these events and celebrating Latin culture. This seemed to be something the entire staff could agree with, the importance of coming together as a community and encouraging the celebration of diversity. 
Glenda Silva, Director of Partnerships, was adamant about the positive impact that these events have on the community. Silva's role in these events is finding the organizations who have the resources to produce an engaging celebration and as a Guatemalan, she felt a special connection.
"The months from mid-September to October are a celebration to celebrate all Latino cultures in the diaspora. This event celebrates cultural diversity and recognizes the history and impact that is drawn by a celebration like this," Silva  said. "It feels like home here right now."
The music and dancing took over the afternoon and transported everyone into a celebration of Latin culture and the beauty behind each rhythm and movement. Similar events are happening for the rest of the year at Borough Hall in Brooklyn and the community is encouraged to come out and immerse themselves in diversity, culture, and fun.