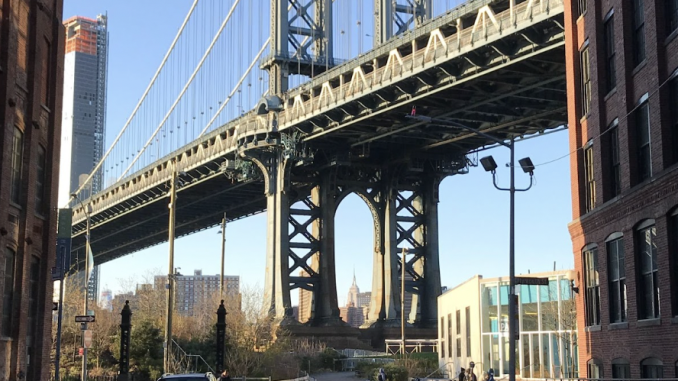 BY JESUS KING
If you take a walk along Brooklyn Bridge Park, there are many sights to see –  from the expansive, iconic Brooklyn Bridge, to the equally photo-worthy Manhattan Bridge that fills up with tourists stopping to pose with it. But there is a little known secret that is open year round where both tourists and locals alike can learn about the ecology and the environment that surrounds these iconic areas.
The Brooklyn Bridge Park Conservancy runs an Environmental Education Center that hosts around 10,000 school children every year that educates them on the environment and the ecology around DUMBO. It also educates visitors about the history and Manhattan and Brooklyn bridge and how they contribute to the ecological life around Dumbo. The educational programming is for children and adults alike. 
"I didn't know this place existed before I got here," said Valentina Wain of Canarsie, Brooklyn, who brought her three children to learn about the center. "Someone sent me a link to this place and I think it is a nice place for kids to learn," Wain said.
The center—first opened in 2008—sits on the site of a former New York City Department of Environmental Protection building maintenance building that Brooklyn Bridge Park converted for park operations in 2014. The following year, the conservancy headquartered their education center at 99 Plymouth St. 
While the education center is open year round, the center also has open hours. During open hours, visitors can participate in a self-led activity that encourages them to find hidden stories and interesting tidbits in and around the Park. The self-led sessions are guided by educators of the conservancy.
One of the biggest educational pieces is about the ecology of the Park and the East River Estuary. According to one of its interactive sections at the center, estuaries are essential to the preservation of the aquatic ecosystem in and around the park. Estuaries form when saltwater and freshwater mix and are vital to organisms that thrive in that dynamic environment.
The East River estuary is home to a vast array of ecological life. One such method to gather data about the abundance of these life forms in and around the East River estuary is from a method of fishing called seining.
Seining involves two or more people working to corral fish to an area where they can be trapped in the net, to pull them out of the water. These nets can be shallow or they can be several feet long. Seining has provided invaluable to the conservancy as it leads to data about life under the surface of the East River estuary.
"I really like the way this program educates children so much, not just on the bridges but also the environment," said Luke Douglas, a tourist from Maryland with his daughter in tow.
"If we don't teach them about the environment, how will they know to take care of it," Douglas said.