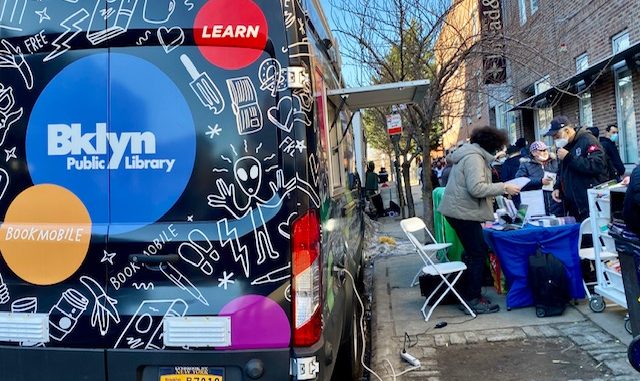 By ELSA AMAYA
St. John's "Bread and Life" brings just that to the Bushwick community. A community based organization located at 795 Lexington Ave in Brooklyn, Bread and Life serves food to nearly 450 people daily, and has done so for over 14 years. Since the pandemic struck, a New York Public Library bookmobile van joins St. John's Bread and Life twice a month to serve hundreds of people with books, COVID-19 test kits, information for citizenship classes, information regarding immigration services, masks, and more.
On the morning of Thursday February 10,  nearly 50 people were standing just outside of St. John's Bread waiting to get their groceries. Thirty minutes later more started to arrive. There were nearly 300 hundred bags of food given out, filled with milk, cooking oil and eggs. From the New York Public Library there were 65 testing kits that were gone in just five minutes.
St. John's Bread and Life  started as a small project in the basement of St John's Church in 1982, located at 333 Hart St. in Brooklyn. It became so big that they moved to this location in 2008. At this facility you will find groceries, life supplements like baby formula, pampers, and  vitamins for babies and adults.
St John's University volunteers and staff preparing grocery bags to give out. Photo credit:Elsa Amaya.
According to sister Marie Sorenson, the associate Executive Director, this location is a an emergency food provider. "We provide hot meals and food pantry to people who are registered," she said. Everything they serve is free and it's donated by big markets like 3 guys from Brooklyn, Robin Hood, Grow NYC, City Harvest, and others. Sister Marie said that the New York Public Library contacted her and asked her if they would like a mobile van parked outside to provide books and other services. She thought it would be a great idea because people would have access to books.
"St.John's Bread and Life is like our family, la familia, so that's why we like to come here," said Joane Kelly, a volunteer who has traveled since July of 2021 in the Brooklyn Public LIbrary vehicle to come to this location. The library provides people with necessary Covid-19 information and testing kits as well as books loaned at no cost. Borrowers can return their books to any public library location.
Right outside of St. John's Bread and Life were friends Julia Alvarez, 59, and Dilersia Jimenez, 70, one residing nearby and Julia traveling from Queens. They met at St. John's Bread and Life, and although they live in totally different areas they have become "like sisters," said Jimenez. They exchange food and help each other in lines. "We have come here for years, when we would pick our groceries online and they used to serve food inside and we were able to sit inside and eat it, but after Covid everything changed,"  says  Jimenez.
Alvarez said that this organization has been a great help for them because they get to save a lot of money, especially now that food is so expensive. They both say they will keep coming twice per week for as long as they can.
This facility has become a gathering spot for many New Yorkers, not only for local residents but for many others. In order to receive the benefits from these locations, people need to register, everything is completely free, they are open Monday through Thursday from 8:00am to 2:00pm. They serve hot cooked meals from 10:00-12:00pm.