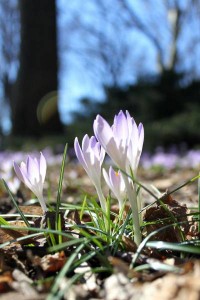 By DARA FEINBERG
Jennifer Sidman pointed happily to a single, tiny purple flower bud.
"Look Naya, spring is in the air!" the 33-year-old mom told her toddler daughter.  flower bud. "See all the little pretty flowers coming up?"
As they walked Tuesday along the green-lined pathways of the Osborne Garden at the <a href="http://www.bbg.org/news/">Brooklyn Botanic Garden</a>, Sidman and her daughter were not the only ones who are noticing the sudden growth springing up everywhere weeks before winter's end.
Due to mild weather, flower buds and other plant growth are beginning to make their appearance earlier than expected in parks all over New York City. At the Botanic Garden in Brooklyn however, staff members aren't worried about the fluctuating weather and have decided to let nature take its course.
"We're being good horticulturists by going about our usual Air Jordan Femme methods of protection," said Communications Manager Kate Blumm. This includes mulching and placing fences around trees, but Blumm attests that the blossoming vegetation is strong enough to withstand severe weather.
Crocus and snowdrops are among the first plants to crop up during the early season;  they can endure swings in the weather.
"I couldn't be more excited for spring!" Sidman said. "Seeing all this new growth can really lift your spirits after being cooped up all winter, and what better place to see it than at the Botanical Gardens?"
The Brooklyn Botanic Garden is currently undergoing construction in some areas as it prepares to renovate various gardens for the summer months.