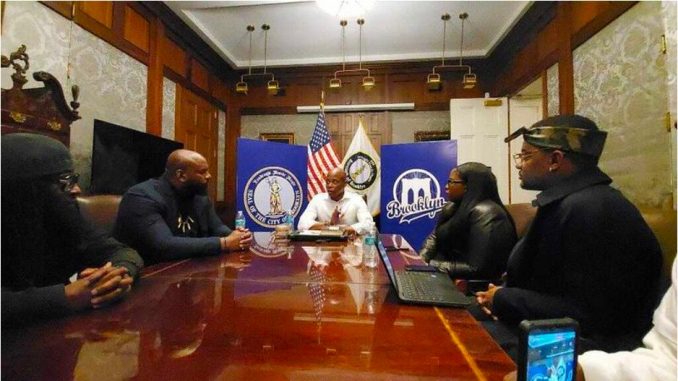 By GABRIEL TIU and JULIAN WATSON
Leaders of New York's Black Lives Matter movement are threatening "riots" and "bloodshed" if Mayor-elect Eric Adams reinstates the NYPD anti-crime units. Adams, a former police captain himself, met with the leaders of the city's Black Lives Matter at Brooklyn Borough Hall on Wednesday.
"If he thinks that they're going to go back to the old ways of policing, then we are going to take to the streets again. There will be riots, there will be fire and there will be bloodshed because we believe in defending our people," said Hawk Newsome, co-founder of Black Lives Matter of Greater New York.
The meeting occurred behind closed doors but was live-streamed on Instagram by a guest who attended the meeting. The activists and Adams got into a back and forth shouting match as they debated law policies, so much so, that Adams' often stoic composure was shaken as he was visibly perturbed.
"We will be at his front door, we will be at Gracie Mansion, we will be in the streets, if he allows these police to abuse us," Newsome said. "I am not threatening anyone. I am just saying that it's a natural response to aggressive oppression, people will react."
In a statement, Adams said there is "no reason we cannot have both safe streets and racial justice in our city."
A New York City police officer spoke to Brooklyn News Service on Thursday regarding the potential reinstatement of the NYPD's anti-crime units. "It will be interesting to see how the mayor-elect will handle this, especially as we're just in the heels of one of the most tense period between the protesters and the police." (Disclosure: The officer is a friend of Brooklyn News Service reporter Gabriel Tiu.)
The officer added that he feels an open dialogue between the activists and the mayor-elect would be helpful in the long run. The officer said, "There needs to be an open dialogue and transparency from both sides and perhaps we can prevent police brutality and riots from happening."
The city's anti-crime units consisted of police officers dressed in pedestrian clothes, who were assigned to respond to violent crimes, but their behavior in the past was often abusive and racially tinged. They were associated with a number of the city's controversial police shootings/killings. The unit consisted of 600 undercover cops. It was disbanded last year by Police Commissioner Dermot Shea.
Caption: Hawk Newsome, left, sits with Eric Adams, center, and Chivona Newsome, Hawk Newsome's sister, on right
Photo credit: Leeroy Johnson (Instagram handle: @leeroypress), independent