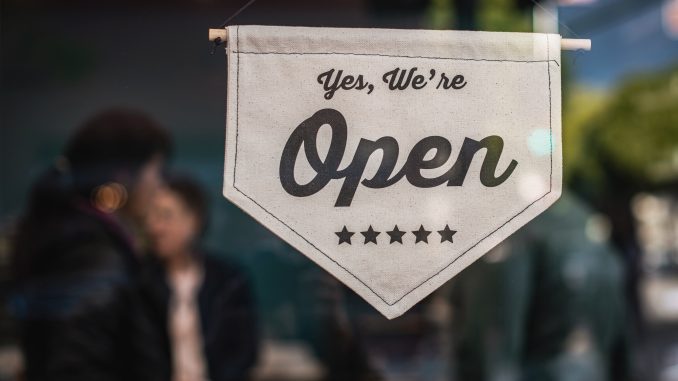 BY BRITTANY ROYAL
In New York City, hundreds of Black entrepreneurs are turning adversity into opportunity after the peak of the COVID-19 pandemic by starting their own businesses. 
The Census Bureau Business Formation Statistics reported the most extensive number of new business applications in 2021, totaling more than 5.4 million, a 20% increase over 2019. 
The rise in Black women starting enterprises reflects the Great Resignation, which has seen millions of women quit their employment due to childcare, wage equity, work-life balance options, and coronavirus avoidance concerns. 
Women in the Black is an organization that assists African American women-owned small businesses in filling the financial gap. Since the outbreak, there has been a boom in Black-owned businesses, largely due to Black women. Although the COVID-19 outbreak had a substantial negative impact on the economy of the country, not every American was equally impacted. The economic, social, and health effects of COVID-19 are rapidly worsening in Brooklyn.
Women in Black's financial officer, Teri Coaxum, emphasized the value that these black-owned companies offer to the community during these trying times and how they were responsible for the continued prosperity of the Brooklyn area.
"More than 25% of workers are employed by the 37 minority-owned small enterprises in Brooklyn that we assisted during COVID-19, and they produce more than $250,000 in annual economic production. About 25 of them are owned by women, " said Coaxum.
Minority women are primarily responsible for establishing new businesses as they have struggled with financial stress, childcare shortages, and discussions about remote work, all of which have been exacerbated by persistently low pay and workplace discrimination.
Another factor contributing to the surge of Black business ownership could be epidemic layoffs. Because of the job insecurity brought on by COVID-related restrictions, many people have looked into other choices, including starting their businesses.
Bread Beauty Supply, "a hair-care company for not-so-basic hair," was founded by Maeva Heim. Black women and other consumers from various backgrounds can get the holistic hair products they need online at the Bread Beauty Supply website.
"I started my brand in 2020, and my idea of a brand was always about filling that gap and creating great products for Black women in a way that has not existed before. I was terrified, but some of the challenges of starting your own business during the pandemic may not be as apparent as if you were relying on employment from someone else," said Heim."For me, that was undoubtedly a blessing in disguise."
To address long-term goals for improvement, finance access, and a lack of financial respect for minority company owners, Operation Hope offers concrete programs and activities. Operation Hope assists business owners in having the most significant effect possible in their neighborhoods.
According to Operation Hope, a lack of regard for money and access to capital are two fundamental, systemic issues that have impeded the growth and opportunities for small businesses in America for more than 400 years. More Black women may start their businesses because they want more control over their working lives.
Some may wonder what prompted so many black women to start their own businesses.
 "Many Black women who felt they were underpaid or left behind at traditional institutions became entrepreneurs out of necessity rather than an opportunity," said Cynthia Bryant, associate with Operation Hope. 
Ria Graham, with the assistance of her mother Karen Valentine, opened KOKOMO in North Williamsburg in July, 2020. This newly-built restaurant delivers flatbreads, comfort dishes, unique cocktails, and luscious desserts presented precisely with bright plating and is inspired by the exotic and rich Caribbean culture. To put it mildly, it is an awful challenge to open any restaurant amid a terrible pandemic. However, Graham and her team succeeded in doing the impossible. 
"Your seating capacity is severely constrained, you are suddenly liable for the health and safety of your staff and your guests, and you are constantly building and rebuilding infrastructure and logistics according to an ever-changing set of regulations. Also, you must work harder than usual to hang on, hoping things will get better barely," Graham said. 
Since March 2020, there has been a significant shift in how people live and work. Employees converted their houses into offices, employers adopted a work-from-home policy, and parents added homeschooling to their list of duties. 
As the pandemic's worst has passed, we are observing how Women as business owners are perceiving, organizing resources, discovering new chances, and taking risks to attain their aims in creating new, inventive companies. 
"As a Black entrepreneur, you come into this assuming you are not going to have, you know, a one-up on acquiring funding for different possibilities. Moreover, we are already taught, "OK, you will have to work harder just to be seen," Graham said.