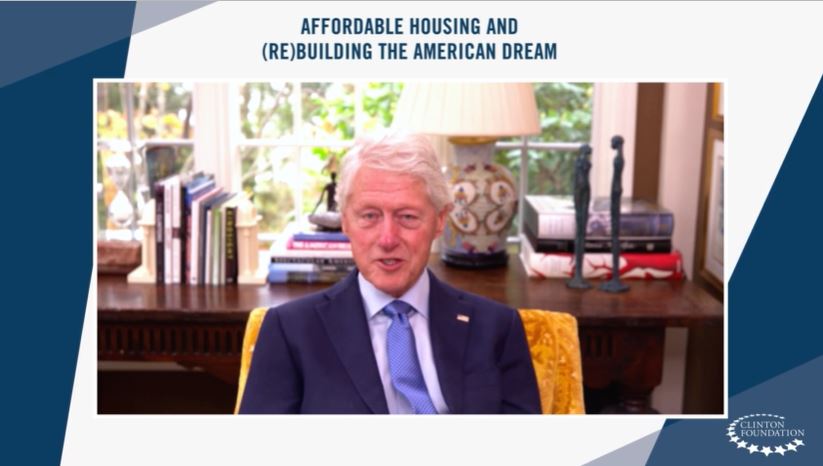 By BOBBIE BELL

Former President Bill Clinton on Thursday gave a thumb's up to President-elect Joe Biden plan to tackle the affordable housing crisis among Black Americans.

"The Black community in terms of home ownership has not recovered fully from the 2008 crisis," Clinton said in a panel discussion that he hosted at the Clinton Foundation. "If you look at the long pattern that home ownership among Black Americans now is almost 20% lower than it was the day I left office 20 years ago."

Another panelist, Former Secretary of Housing and Urban Development, Julián Castro, echoed his optimism for Biden's $640 billion plan to address the affordable housing crisis within 10 years.

"One of the things that's included is universalizing the housing choice voucher program," said Castro.

Biden's plan would extend access to housing assistance programs to low income communities who face racial discrimination. The plan would also push for states with government funding to allocate affordable housing units and pose for the reinstatement of a plan from the Obama Administration, that pushed places that received HUD funding to address housing discrimination, which was ended by the Trump administration.

Joined by various community leaders, Clinton also described how the current pandemic has dug struggling communities into an even bigger financial hole. Now that promising COVID-19 vaccines loom in the near future, Clinton said it's time to start talking about the issue with the incoming Biden administration.

"The need for housing is not going away," said Keisha Lance Bottoms, the mayor of Atlanta. Bottoms said that the issue has spanned generations.

With a rise in homelessness this year due to the pandemic, more pressure has been put on minority communities that they had already severely been experiencing before the start of the year, she said.

Maurice A. Jones, president and CEO of Local Initiatives Support Corporation, urged government support. "We have to get a lot more ambitious as a country, with down payment assistance, with forgivable loans, with on-going housing counseling and financial literacy counseling," said Jones.

Bottoms agreed and said she lives in an Atlanta neighborhood that has yet to recover since 2008.

"We aren't that far removed from any of our families, despite the fact that I'm sitting here as mayor of Atlanta," said Bottoms. "It's this kind of chicken and egg situation that we're dealing with here."

Sanjiv Das, CEO of Caliber Home Loans, echoed this idea of an intergenerational wealth gap.

"If they really don't understand financial literacy and they don't pass on that soft skill to their next generation, then it becomes a generational issue," said Das.

Das said a long standing issue has been keeping people in housing. "Our responsibility as lenders is not just about helping people buy a home, but it's equally important to help them stay in it," he added.

The solution, the panelists agreed, was another stimulus plan.

"The federal government is MIA to some extent right now," said Jones.