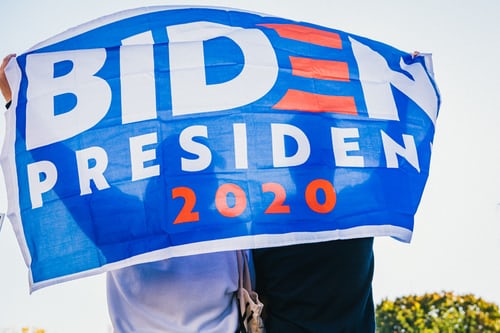 By ZION DECOTEAU
President Joe Biden said on Thursday that he expects to run again in 2024, stunning reporters at the first press conference of his presidency in the East Room of the White House.
"The answer is yes," he replied to a in reporter's question. "My plan is to run for re-election, that's my expectation."
The announcement came just 64 days into his presidency and surprised Washington insiders who had speculated that would serve only one term because of his advanced age and his descriptions of himself on the campaign trail as an "interim" executive.
The commander in chief was pressed by CBS News' Nancy Cordes on why he hadn't set up a re-election campaign yet as Donald Trump had at around this time in 2017.
"My predecessor needed to," Biden said, laughing. "Oh God, I miss him," he added jokingly.
Should Biden run and win, the 78-year-old Democrat — who would be 82 on election night 2024, and 83 on inauguration day 2025 — would break his own record as the oldest elected and sworn in President in American history. That title was previously held by former Presidents Donald Trump and Ronald Regan.
Moments later however, Biden seemed to soften his prediction.
Kaitlan Collins, CNN: "You also just made some news by saying that you are going to run for re-election —"
Biden: "I said that is my expectation!"
Collins, CNN: "So is that a yes that you are running for re-election?"
Biden: "Look…I..I don't know where you guys come from, man. I've never been able to travel..I'm a great respecter of fate.  I've never been able to plan four and a half years, three and a half years ahead for certain."
Biden added that he expected Vice President Kamala Harris to be on the ticket, saying that she's doing a "great job" and that she's a "great partner".
On whether Biden might be running against ex-President Trump in 2024, the 46th president responded, "Oh come on. I have no idea..I don't even think about.. I have no Idea..I have no idea whether there'll be a Republican party".
The president rebuked Republican efforts for stricter voting laws.
"What I'm worried about is how un-American this initiative is," he said. "It's sick."
The president also denounced such Republican-led voter restriction proposals as forbidding the distribution of water to people waiting online to vote, ending voting at 5 p.m. and curtailing absentee ballots. The  measures come after many congressional Republicans questioned the legitimacy of mail in votes — which heavily benefited Democrats during the 2020 election — so much so that many falsely asserted Biden had stolen the election. Tensions came to a climax on January 6th when a large mob of Trump supporters and right leaning extremist groups, stormed the U.S. Capitol building in an effort to stop the electoral college certification of Joe Biden as president.
"This thing makes Jim Crow look like Jim Eagle," Bided said.