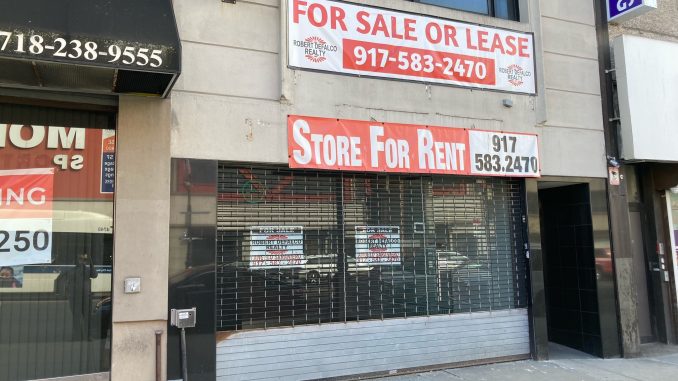 By: JOANPOL GUTIERREZ
COVID-19 not only affected the physical health of millions of citizens across the state, it also had a deep impact on local businesses in Bay Ridge
"I have lost my two other pet stores and I almost lost this one too," said Teresa Founs, the owner of the local pet store Fluffy Paws Supplies & Grooming at 7401 3rd Avenue, Brooklyn. "I tried and tried to get loans but didn't get any because of my credit," she explained.
Her credit score took a heavy hit because she lost her other two pet stores.
A similar pattern can be seen along 86th Street between 4th and 5th Avenues. A walk down this usually-busy shopping area shows eight stores that are either being rented or up for lease. Those eight businesses include Century 21, Modell's, and the law firm Gullo & Associates.
"What happened during the pandemic was that online stores started to compete with local businesses," said Patric Condren, a consultant and executive director of the Business Improvement District (BID) on 86 street. "There has been a retail reset," he said.
Condren is referring to Amazon and other  online shopping sites that profited in a big way during the COVID-19 lockdowns. Amazon chief Jeff Bezos's fortune went from $113 billion to $178 billion.
A retail reset happens when a store moves merchandise or rearranges products in a more marketable way. It is basically a reorganization to make the store more appealing to buyers, once the owners see a lack of engagement from the customers.
Condren is also confident that the situation will improve, but it won't happen soon. "There is no way to tell how long it's going take for businesses to improve and no way to know the short term impact of it," he said.
Bay Ridge's Community Board says the same. In its latest Statements of Community District Needs, it wrote, "The short-term economic impacts of the COVID-19 pandemic within Community District 10 are significant and it remains too soon to project future financial implications to the local economy."
For Teresa Founs, business is slightly stable but the taxes on her property are becoming harder and harder to pay. She pays around three thousand dollars in taxes. "I am also applying for jobs and studying. If I find a decent paying job, I will leave this store," she said.
Founs also explained that she was able to sustain herself during lockdowns because "my landlord lowered the rent for me. It was really hard for me to survive after losing my two stores."