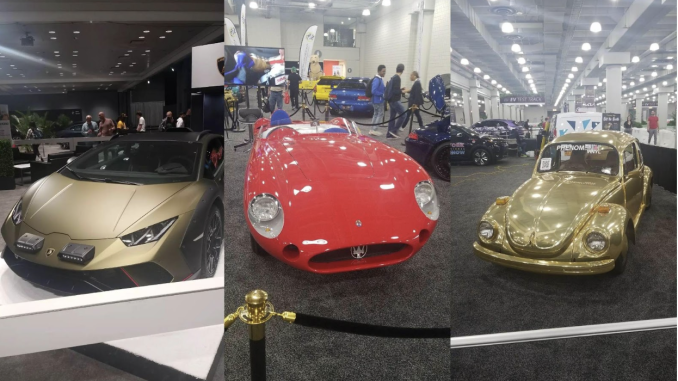 BY HENRY POPOVIC
The New York International Auto Show returned to the Jacob Javits Convention Center in Manhattan, from April 7 to 16. Car brands from around the world displayed their newest models for the American market, giving people the opportunity to take a closer look at vehicles that they are interested in. 
This year's incarnation of the auto show had a significant focus on electric vehicles. On the lower level, there was an EV test track, which was one of the larger spaces in the show, and allowed people to experience and get the feel of what it's like to drive an EV. 
Lynne Smith, a media relations specialist at the show, explained some of the benefits of electric vehicles. 
"Electric vehicles keep the air cleaner, they keep pollutants off our roadways, they make our communities more pleasant places to live, and make for a cleaner environment. They're also more fun to drive, and they accelerate easily," Smith said. 
Smith also discussed what the future could look like with regards to electric cars. 
"Electric cars will be normal, people will be buying electric cars, and there won't be gas guzzling cars on our roads in the same way they are today, because starting in 2035, in New York State, there will be a rule that only electric cars can be sold," she said. "So while there will still be some gas cars on the road for a while, the movement will be to electric. It'll be a different world." 
There were many other highlights at this year's show, some of which were described by Mike DiPaolo, a publicist for the NY Auto Show. 
"We actually have five ride-and-drive events this year, you can go out to the Camp Jeep which is always exciting, you get to test the off-road capabilities, [and] the Ford booth has got their own little exciting ride-and-drive," he said. 
DiPaolo went on to talk about availability in connection with the cars of the show.
"Aside from that, we've got nearly a thousand cars on the floor that you can come and check, if you're looking to buy a car you can get in and handle and see what the options are for you," he continued. 
Exotic cars were also on display, including models from Lamborghini, Rolls-Royce, and Koenigsegg, among others. 
Additionally, cars from films were included as well, such as the DMC DeLorean from Back to the Future and the Aston Martin driven by James Bond in Die Another Day. 
However, there was still more to do and see at the show than just check out cars. Toyota's booth had interactive games with driving simulators, as well as a section with basketball hoops. Subaru had an area with dogs that people could pet, play with, and spend time with, making for an experience that demonstrated the show went beyond the sole purpose of displaying cars. 
Recently, GM-owned car brand Chevrolet announced the controversial decision to discontinue the Camaro, its popular muscle car known to rival Ford's Mustang. A product specialist for Chevrolet at the event, offered some insight. 
"I was surprised by the decision to discontinue the Camaro, as we have a lot of Camaro lovers. I don't know exactly what went into the decision, but this isn't the first time the Camaro has been discontinued, so it might not be the last," she said. 
The New York International Auto Show will return in 2024 from March 29 to April 7.