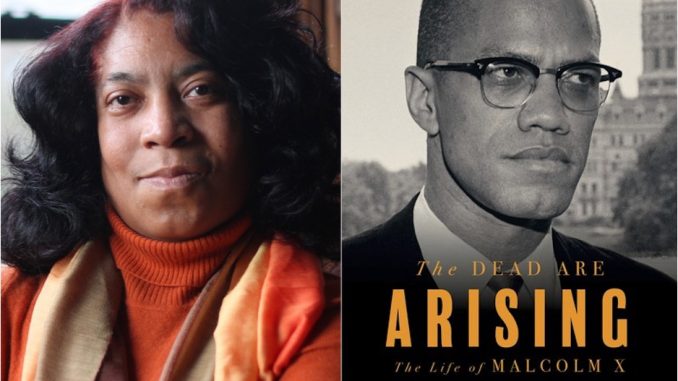 By JOHAN ABDU (who wrote and reported), JULIAN WATSON (who interviewed Tamara Payne) and Jordan Ramos (who did additional reporting)
On February 7th, 2020, the documentary mini-series "Who Killed Malcolm X?" debuted on Netflix, the fruit of the work of Abdur-Rahman Muhammad, an activist/historian based in Washington, D.C., who spent the better part of 30 years investigating the 1965 assassination of Malcolm X in New York City.
The documentary examined an affidavit made in 1977 by one of the three men convicted in the killing, Mujahid Abdul Halim. In it, Halim alleges that the two men convicted alongside him, Muhammad A. Aziz and Khalil Islam, were innocent.
After the release of the docu-series in 2020, Manhattan District Attorney Cyrus Vance Jr. announced he would consider a re-investigation of the case into the killing of one the most prominent figures in the history of Blacks in America.
Twenty-two months later, on Thursday, the Manhattan DA's office announced he was filing a request to vacate the convictions of Aziz and Islam — after spending more some two decades each in prison. Islam is now deceased.
(Later in the day, a judge granted Vance's request. Aziz and Islam are, thus, now exonerated.)
Pulitzer Prize-winning investigative journalist Les Payne spent more than 30 years doing extensive research on the life of Malcolm X, resulting in a 612-page biography of the minister/activist, from childhood to assassination — and beyond.
Payne passed away in 2018, leaving his work unfinished. But his daughter Tamara Payne diligently completed the book after his passing. The final work was titled "The Dead Are Arising: The Life of Malcolm X." It won the Pulitzer Prize for biography in 2021 and the National Book Award for Non-Fiction in 2020.
Brooklyn News Service spoke to Tamara Payne on Thursday, following the news of Aziz and Islam's exoneration, to talk about the book, what inspired it and her thoughts on Malcolm X's assassination.
"It started with my dad…He admired Malcolm X. He felt he knew everything we needed to know about him through his speeches," Tamara Payne said. "These things formed the Malcolm X we know. It helped us to connect to him."
Raised in Nebraska with a rough upbringing and a history of criminal activity, Malcolm Little (later to be Malcolm X) grew into an activist during the peak of the Civil Rights movement, as well as a spokesman for the Nation of Islam. A larger-than-life vocal advocate throughout the 50's and 60's for Black empowerment and the promotion of Islam, Malcolm X was accused by establishment types of preaching violence and racism.
"The media portrayed him this way, but we knew it was wrong," Tamara Payne said. "My father knew from his speeches that he taught self-defense, not violence."
By 1963 Malcolm X had split with the Nation of Islam. Malcolm was repeatedly threatened, even in public, by members of the Nation.
On February 21, 1965, three men opened fire as Malcolm X started his speech to a crowd of 400 at the Audubon Ballroom in Manhattan. Mujahid, real name Thomas Hagan, ran from the ballroom that night and was arrested along with Aziz and Islam on March 10.
Although Mujahid confessed to the murder at the time of his conviction, he maintained that Aziz and Islam were in fact innocent of the crime. They were later sentenced to 20 years in prison. While in prison, Mujahid filed two affidavits implicating four Nation of Islam accomplices, compelling defense attorneys to try to reopen the case but judges would ultimately decline.
Tamara Payne believes it was shameful — not only that the investigation was never concluded — but that  Malcolm X's safety was clearly under threat before his killing and nothing was done.
"Information was given to the FBI and NYPD, as well as the Bureau of Special Services and Investigations…Jean Roberts was an agent we talked to and he told us how he collected information and reported back on Malcolm. He believed he saw a dry run of the assassination attempt, to see how his security team would respond. Where are these reports?" Tamara Payne asked.
Les and Tamara Payne's investigation left them believing the assassination of Malcolm X was effectively covered up by the government.
Thursday's developments leave open a possibility that justice may be done fully one day, and the whole truth told.
Regarding the two men who were exonerated: Aziz received parole in 1985 and was subsequently released from prison; Islam was given parole the same year and passed away in 2009. Mujahid — who had long tried to convince authorities that he, not Aziz and Islam, had tried to kill Malcolm — was released from prison in 2010.
On Wednesday The New York Times quoted a prominent justice advocate pronouncing what exoneration means for Aziz and the late Islam. "It's long overdue," said Bryan Stevenson, a civil rights lawyer and the founder of the Equal Justice Initiative. "This is one of the most prominent figures of the 20th century who commanded enormous attention and respect. And yet, our system failed."
As to what the exonerations mean for the long-term history of the case, there are many questions, Tamara Payne told Brooklyn News Service.
"We must ask who and why! Currently, this exoneration is a historic correction, but it is not a resolution. We must ask the right questions, to the right people." Payne said.