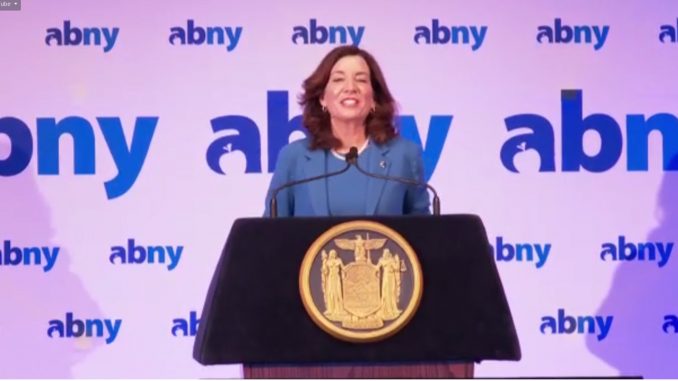 By MARY ZAKHAROVA
New York Gov. Hochul provided updates on her agenda at an Association for Better New York's (ABNY) Power Breakfast on Thursday.
ABNY is a nonprofit organization that encourages the public and private sectors to help with the growth and renewal of NYC.
Hochul said the infection rate in the city is now only one percent and that it is safe to return to work.
"Send that message to your employees. Come back to work, we miss you!"
Hochul also discussed the need to support housing for homeless people and services they need, like mental health treatment and advice. "These people have needs. We need to take care of them and tell them, 'We can do better than (this).'"
Another priority the Governor talked about was "to get the economy back on fire." "This is what we do best," she said. "We are the innovators, the creators, the believers, and we have to create jobs for the future."
Hochul wants to recognize areas with labor shortages and give people skills that would help them find employment. "Not all the jobs are coming back . . . ," she said.
The governor talked about the shortage of healthcare workers and her decision to fund the education of one thousand New-Yorkers who want to be trained as nurses and "get them to our system as soon as possible."
Lastly, she also spoke about infrastructure.
She said she put $1 billion into a repaving program to fix roads and bridges. "I don't want to live in (a) where there are bridges that are compromised. We have to use this money and use it now," she said, referring to federal infrastructure money.
She promised to build infrastructure underground, as well as aboveground, yo make sure New Yorkers are safe from hurricanes and flooding. "We had more hurricanes than the state of Florida did this year. We have to be prepared. After that experience [Hurricanes Henri and Ida] I told my team I have to be mentally prepared… And shame on us if we are not prepared."
Hochul said she would be reinventing airports as well as bus and train stations, mentioning the next phase of the Second Avenue Subway line for Harlem, as well as projects with New Jersey.
Thinking green, the governor said New York residents should expect electric buses, off-shore wind/clean energy projects, and charging stations for electric vehicles.