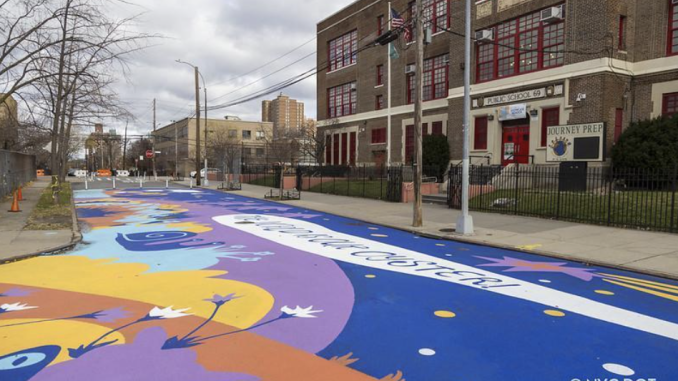 BY JUWAN WYATT
Although art education is a crucial component of student learning, it is frequently the first area of the budget that is eliminated in New York City public schools. The 2020 pandemic affected the arts curriculum, which made it challenging for students to learn and be creative. It additionally had an impact on the funds allocated to schools.
The goal of advocacy organizations like Arts in Education Roundtable is fighting to keep art education programs from declining in NYC public schools. 
"Transforming our city's schools starts with the arts. That is why the Roundtable launched our 'It Starts with the Arts' advocacy campaign, to call on our City to invest in dance, music, theater, visual arts, and media in our city's schools and communities. We believe that dedicated per capita funding plus accurate data reporting and assessment is the first step towards creating greater equity," said Kimberly Olsen executive director of Arts in Education Roundtable. 
Roundtable's advocacy efforts last year resulted in the creation of the $3 million "Support for Arts Instruction" citywide initiative, which aims to increase participation in arts education, particularly in schools with little access to it. 
This is a first step in ensuring that every student has access to a full, varied arts education. They're  excited to collaborate with Mayor Eric Adams, Chancellor David C. Banks, and the City Council in 2023 to expand on this base and advance the cause of arts education for all.
"Policy change, school accountability, and clear direction from the Chancellor is needed to ensure that arts instruction is not impacted if school budgets are cut in the upcoming school year. Without those measures and the funding to support arts opportunities, we are concerned that we may see history repeat itself similar to the massive cuts in 1970s, 1990s, 2008, and at the beginning of the pandemic," Olsen said.
According to Chalkbeat, an appeals court ruled on Tuesday November 22nd New York City lawmakers won't have to vote again on the education department budget, meaning that the more than $370 million in cuts made to schools across the five boroughs this year will stand.
Over the previous two years, Mayor Bill de Blasio protected schools from these cuts by mostly utilizing COVID stimulus money. Adams' proposal changes this practice and returns to a funding structure that is more closely correlated with enrollment.
If a school enrolls fewer students than anticipated halfway through the school year, money must normally be returned. According to the NYSED this year, enrollment dropped at over 23% of the city's public schools, with around three-quarters of them losing 10% or more of their students.
"We're given a projected budget usually in March, and this budget is usually based on how many students. So, it behooves the principals to make projections to maximize the number of students that they have," said Former Willam E. Doar Washington D.C principal Lindsey Joseph.
Principals play critical roles in ensuring that school art instruction is successful and that children's education experiences are meaningful and valuable. 
"Primarily, what the main focuses are the four core contents which is math, science, reading, and history. When those students approach high school, they bear credits for those core classes. Unfortunately, sometimes what's left over trickles down to other departments that comes before art programs," Joseph said.
Art programs frequently receive donations from the private sector when school financing is inadequate. According to U.S. News and World Reports, an arts education gives students a well-rounded education. Public school principals do not want to eliminate art programs, but due to a lack of funds, art programs come last.
"I think principals perhaps should have to start advocating for the importance of it. I think that education as a whole has to get over the stigma of it's not a business, we provide a service. And if everyone kept that mindset, realizing what services do, we need to ensure that this child is a productive member of society would be helpful. I think specifically, principals have to start thinking outside the box," Joseph said. 
The COVID-19 epidemic has had a significant impact on the world of art instruction. Teaching visual arts concepts, abilities, and practices to students in online classrooms utilizing unconventional methods has proven to be difficult for art educators. 
"I conducted my class online during the pandemic and I found it challenging because my students were able to get the supplies they needed from me. At that time all of my students had limited resources which limited their learning and creative work," said Monirul Islam, a New Preparatory Middle school Art teacher. 
For 25 years, Islam has been instructing painting courses. Over the course of his career as a teacher, he has observed a reduction in the quality of the art programs at his school. Activities like cooking and sowing have been eliminated, and the school now only offers two art programs, which are now music and art classes.
"Every year I'm getting support from the budget. It's not enough but we still try to continue the work as much as we can with the amount that we get. If our budget gets cut that will have a heavy impact on students' education," Islam said.
During the COVID-19 pandemic, schools had to shift to online classes and for theater performances had to shift online, where Students who wish to become artists struggled to continue a love for the arts.
 "Personally, I found doing the online shows to be extremely boring, and as a stage manager there wasn't really much to do. It was mostly just sitting there and making sure I was on book for the actors," said Brooklyn College theater major Oziel Jimemnezsantios.