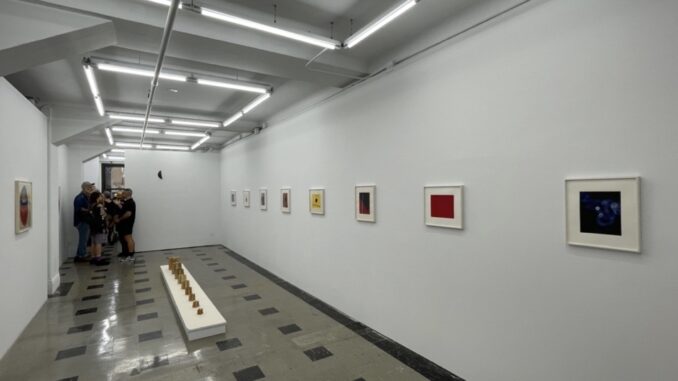 BY MAXWELL SCHUSS
For the past 25 years gallerist Kerry Schuss has displayed the works of others. Now, he himself has dived into the life of an artist. Saturday marked the opening of Gordan Robichaux presents Kerry Schuss, his third and largest exhibition to date.
"The gallery became my main creative outlet; without intending it, I took a twenty-year hiatus from making my own work," he said. 
Since 1998, Schuss has owned and exhibited artwork at the Kerry Schuss Gallery in TriBeCa, New York City. However, before the gallery space, Schuss spent much of the 1970's utilizing unorthodox methods to create his own pieces of artwork.
Schuss is now exhibiting his art because over the past six years he has come to understand the strengths of the pieces he created nearly four decades ago. "The compositions have freedom and experimentation that someone feels in their twenties," he said. "I now realize how fortunate artists are who can look back at their earlier work when they're older, and see how things evolve and add up. What was once a dead end or path not taken can make sense with the perspective of time." 
The show features work dating back to 1974 to present day, and is a multi-space gallery opening. The larger gallery space (Suite 925) showcases pieces dating between 1974 to 1983. It includes four unique bronze sculptures, two of which are displayed on pedestals with the others mounted on the wall; three acrylic paintings (1976); eight different Cibachrome photos (1978-80); and diptych photography (1978). In the center of the gallery space sits a multifaceted sculpture of rectangular pieces of clay, resting upon a lengthy strip of unprimed canvas.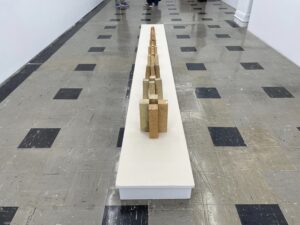 The smaller gallery space (Suite 907) features pieces created between 1974 and 1983. It includes two cast-iron sculptures (1989) resting on the floor and a series of six dye sublimation electrogram prints (1978). The prints were created through Kirlian photography, a complex technique that involves using a high-voltage current of electricity to expose film inside of a darkroom. In the 1970's, Schuss would create this effect with the use of a Tesla coil to produce the high-voltage and would do it all without the use of a camera.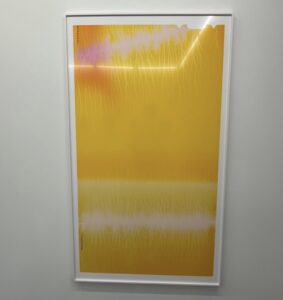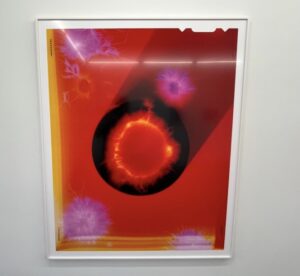 "The depth of color and electric qualities of the pictures make them equal parts stimulating and moving," said Julian Kent, a local New York City artist who attended Schuss' exhibition. "Active forms seem to be pulsating in color. The reds, yellows, and blues, just to name a few of the most consistent colors, exist within a state of mutual accentuations but never clash." Color plays a large role in Schuss' prints and his interest in photography dates back to 1976 when he lived on Park Avenue South and bought a Polaroid SX-70. "I started experimenting freely by making abstract photographs. I played around using colored lights and reflections off plastic to make an instant painterly effect," said Schuss.
To create the static and electrical effects, Schuss would take metal objects like magnets and place them on the film. The conductive nature of the surface of the film would cause a current of electricity to spread, creating the effect. According to Gordan Robichaux, during the film electrification process, Schuss utilized colored lights to "generate unpredictable effects: tracery that resembles lighting, geometric silhouettes burned into the film, and a spectrum of highly saturated color." As far as the bronze and iron-cast sculptures, Schuss was inspired from a collection of vintage ashtrays he gathered throughout his youth. "Although photography is the main focus of the show, there is some beautiful sculptural works as well," said Kent.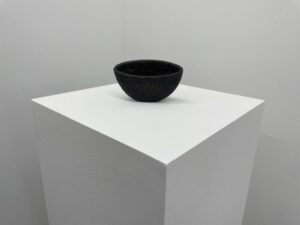 Schuss created hundreds of prints during a thirty-five-year timespan, only recently deciding to enlarge the Cibachrome photos and place them on aluminum. His art career was put on hold after he opened his gallery in 1998. His series of photographs, paintings, and sculptures are on display at Gordan Robichaux through October 22, 2023.