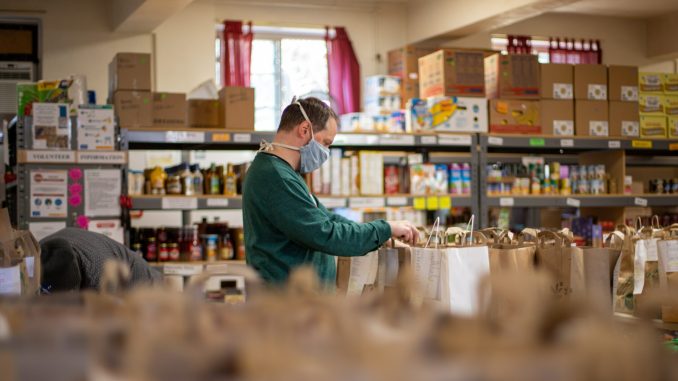 By SHIRLEY ALVAREZ
The numbers of NYC food pantry volunteers declined due to the COVID-19 pandemic, even as food insecurity worsened.
Food pantries around New York City are hungry for help themselves, after losing volunteers and food donors during the COVID-19 pandemic. 
World Care Center, a New York-based non-profit service organization founded in the aftermath of the September 11 attacks. held a Zoom call with food insecurity provider organizations on Thursday February 3, to share their challenges and lessons learned from providing food during the pandemic. 
One attendee, New York Common Pantry Deputy Executive Director Judith Secon, said, "We never stopped serving. Our bags were always full, but they were some scary times." She said volunteers stopped coming and corporate and restaurant food rescue donations that they counted on declined, as New York City went into a shutdown. 
"A lot of people couldn't get out of their house, and that's why a mobile pantry was helpful," said Secon, to keep the volunteers safe and the clients with their stomachs full,  The Common  Pantry came up with an alternative that made it easy for people and volunteers to get and deliver fresh food safely. 
It not only offered hot meals and groceries, it also provided education about nutrition. The Common Pantry food programs still offer hot meals and shopping options, where clients can select the food they would like to eat, and a NYCP Mobile Pantry has nutrition education and social services as well. 
Secon said the pantry serves many students. "We want to get rid of the stigma for college students… We know food insecurity is a problem." said Secon. 
CUNY and Common Pantry are working together to fight students' food insecurity. "We are putting mobile food pantries, with music outside campuses to attract them," said Secon. 
 Brooklyn College offers its students a food pantry they can visit monthly by scheduling an appointment online. 
Common Pantry has served 217,109 households and 13,836,786 meals have been distributed during COVID. If you are facing food insecurity or know someone, you can contact Common Pantry though their website nycommonpantry.org. 
After working on a three-day schedule and going from twenty-five to zero volunteers the Common Food Pantry is getting back its help from providers. "It hasn't gotten away, the need is still here… We now have a lot of funding and help to get through this," said Secon.