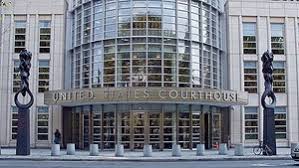 By SHANEL THOMPSON
A 21-year-old Bosnian native on Thursday pleaded not guilty in Brooklyn  Federal Court to charges of attempted murder and illegal possession of a firearm that authorities are calling an act of terrorism.
Dzenan Camovic, who was indicted on August 26, was set to face trial on September 11 before Magistrate Judge Rachel P. Kovner. 
The case arises from an incident that took place on June 3, 2020 when the accused launched an attack on officers standing post in 855 Flatbush Avenue in Brooklyn where he allegedly stabbed one police officer, disarmed another  and fired multiple shots injuring a third responding officer.  
During the attacks officers reported that Camovic repeatedly yelled "Allahu Akbar", leading authorities to brand the incident a terrorist attack  motivated by his interest in violent Islamist extremism. Police also found material related to the Islamic State of Iraq and Al- Sham (ISIS) on the suspect's computer.