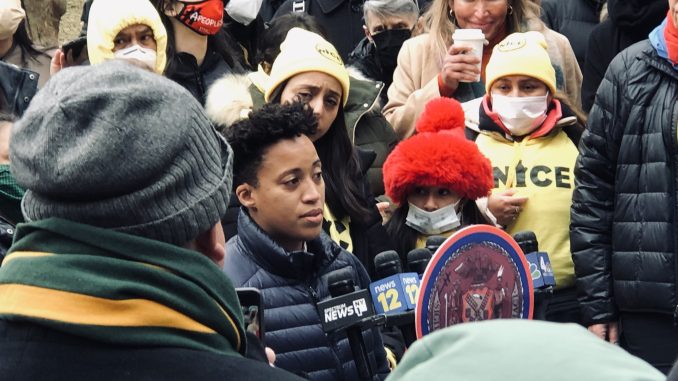 By TYRELL INGRAM
A coalition of LGBT+, immigrant justice, and reproductive justice groups gathered at City Hall Park to protest on Feb. 24, Mayor Eric Adams' decision to appoint three pastors who were accused of being "anti-gay" to top positions within the administration.
"Mayor Adams, you will not get away with it. It feels like (the LGBT community) is being policed and targeted," said National Social Justice Advocate Shéár Avory in response to Mayor Adams.
The three appointees: Eric Salgado, Gilford Monrose, and Fernando Cabrera had said some comments in the past that was deemed offensive and discriminatory towards the LGBT+ community. In 2013, Salgado called abortion and homosexuality a "mortal sin". Adams appointed him to be assistant commissioner of outreach at the Mayor's Office of Immigrant Affairs.
In 2014, Cabrera praised Uganda's ban on same-sex marriage and abortion and claimed that Christians should "take their rightful place" in government to promote their religious views, according to the New York Times. He and Monrose were chosen to work at the newly created Office of Faith-Based and Community partnerships.
About 80 people huddled around a circle in the freezing 35-degree Fahrenheit weather to voice their outrage. Executive Director of New York Pride, Elisa Crespo, shared some concerns about the queer youth within the city.   
"I can't help but to think about the queer youth who call this city their home, who
tonight may have watched the news and feel a little less a part of the fabric of our city because of these appointments," said the executive director. "It's our young people who end up bearing the burden of these anti-LGBTQ and anti-choice appointments."
Advocates like the National Organizer for Housing Works, Jason Rosenberg, feels like the concerns of the NYC queer citizens are being ignored. The 30-year-old posed a question to the crowd.
"When queer lives are under attack, what do we do?" he asked.
"We stand up and fight back!" the crowd shouted.
A huge standout from the crowd was a gay Trump supporter, holding a pride flag with the words "Gays For Trump." John McGuigan, a man in his 50's shared his thoughts about the Mayor.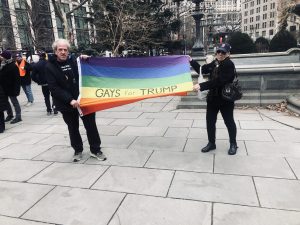 "It's time that we all come together in unity. It isn't right what the mayor is doing," he said. "A leopard never changes its spots," he said when asked if he thinks these appointees viewed have changed from their early 2010s comments.
The mayor previously made a statement in response to the community's pleas that suggested he will likely stay with his picks. He argued that the pastors have evolved and felt like he picked the best people for the job.