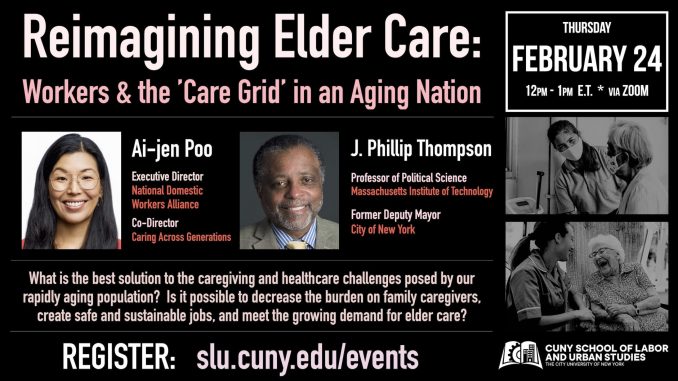 By BILLY WOOD
One in every five New Yorkers will be 60 or older by 2040. Yet the nation is struggling with elder care.
There are 49 million working family caregivers in this country who care for an aging loved one or a family member with a disability, according to Ai-Jen Poo, executive director at National Domestic Workers Alliance who spoke at a virtual City University of New York conference on Thursday. Many of these people are trying to manage work at the same time, and there's nothing in place in our country to support them.
It starts with home care workers, mostly women, who do not make a living wage. The average salary in Brooklyn is $14.84 an hour according to Indeed.com. In some other states it's as low as $8 an hour.
"Imagine trying to support yourself and pay the bills, let alone raise a family on $18,200 a year in a place like New York," said Poo.
Many home care workers eventually leave that position to earn more money elsewhere and even those that work at nursing homes quit, leaving the homes understaffed and overworked. This does not create the best atmosphere for both the elderly and employees.
J. Phillip Thompson, Professor of Political Science and Urban Planning at Massachusetts Institute of Technology told those at the conference, "All of these of these elders who have given us their lives are living in the most undignified conditions, supported by a workforce that is given absolutely untenable responsibility to care for dozens of people every hour. It's literally impossible."
There is also the issue in New York where private equity firms are buying nursing homes because they want the real estate, so they can sell off the property and build luxury condos.
In 2012, the state wanted to closedown Interfaith Medical Center in the heart of Bedford-Stuyvesant, Brooklyn because it was losing money. They were losing money because the Medicaid reimbursement rates are low.
The state was going to shut it down and a community labor coalition got together weekly for years. They asked Thompson for help to advise them on how not to get the hospital shutdown. They were able to save 1,000 jobs and able to keep the hospital open in a community where there are a lot of sick people.
"It would have been far worse," Thompson said, if the hospital had been shut down prior to the COVID-19 pandemic.
There has been progress made lately as President Joe Biden spoke about caregiving as being one his core pillars. In Washington State the Service Employees International Union built a strong workers union there. The University of Washington has trained 40,000 home care workers a year and in 12 different languages. The hourly rage has also increased to $17 an hour.
"It's a starting salary, and they've come a long way and it gives you a sense of this is possible. We can do this," Poo continued "We actually need each other and you can see it in our own homes, the way we rely on each other across class, across race, across community when it comes to care."