By PEDRO M. BERMEJO
In one of New York City's closest local races, Democratic incumbent Sen. Joseph Addabbo was seeking Tuesday to hold off a strong challenge from City Council member Erich Ulrich, his Republican opponent.
A Siena Research Institute poll released in early October had Addabbo ahead of his opponent in the State Senate race with a slim lead that was within the poll's margin of error, 45 percent to 43 percent, with 12 percent undecided.
The candidates are divided on key issues that the voters of the 15th State Senate District care about, issues such as same-sex marriage, hydraulic fracturing or hydrofracking, and how to go about creating jobs.
Addabbo had cast a crucial Senate vote in favor of legalizing same-sex marriage, saying he did so after nearly three-quarters of the 7,974 people who contacted him about the issue urged him to support the measure.
Ulrich assailed Addabbo's vote when the two debated on Oct. 23, saying he had flip-flopped. "If I were in the State Senate, I would have voted no, because I also am a Catholic and I was raised to believe that marriage is between a man and a woman," he said. "That is my personal belief. When we make decisions as elected officials, we do not stick our finger in the air to see which way the wind is blowing and this year we vote one way and two years later we vote another way." He elaborated on this during an Oct. 26 debate, saying, "a true leader does not make decisions based on a poll. I think that people appreciate consistency, I would have voted no."
Addabbo defended his change of mind. "It was no evolution at all. I'm a state senator who's going to listen to the interest of the people — not my interest, but the interest of my people," he said.  "I voted yes but it was the hardest thing I've ever had to do."
Since 2007, Addabbo, son of a former Queens congressman, has represented a district that ranges from Howard Beach to the south to Maspeth and Rego Park on the north.  With re-districting, the new district also includes portions of Rockaway, where Ulrich appears to be doing well.
Poll data showed Ulrich with a six-point lead in the southern portion of the district while trailing by seven points in the northern portion.
Their political views are split on most issues like property taxes, the budget and ethics reform, as well as healthcare and job creation. Addabbo is against hydrofracking, while Ulrich views it as a job creation opportunity. The two men disagreed on the situation of Assemb. Vito Lopez, the Brooklyn Democrat involved in a scandal over sexual harassment, should be handled. Addabbo has said he wasn't ready to cast disparagement on him; Ulrich insisted he should resign.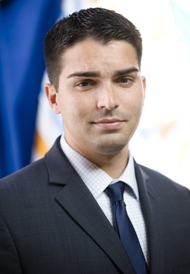 The debate that occurred on Oct. 23 displayed both men's strong suits. Both of the candidates presented themselves with a professional demeanor that projected leadership qualities. Both men were polite and cordial to one another but were not afraid to take the gloves off and get to the nitty-gritty.
Addabbo said offered heavily qualified support to allowing the State Legislature funding for discretionary spending, which is often parceled out to community groups favored by the legislators. Gov. Andrew Cuomo has opposed this practice.
"I believe in discretionary money. I believe the money that comes to local groups is important, but [Gov. Cuomo] doesn't believe that any elected official should be attached to any specific money," he said. "Too many of our elected officials have misused their money and so the governor has said no more new money to elected officials."
Ulrich said it's a public official's duty to bring back discretionary funding to the district.  "When you fail to bring back money to the community, there's something wrong with that picture," Ulrich said.
Addabbo has said repeatedly that he opposes hydrofracking, contending it is not safe and would provide no jobs for the people of Queens.  "It creates zero jobs for us down here, the drilling is done 300 miles away, [and] the oil companies bring their own employees," he said.  In an Oct. 26 debate moderated by New York 1, Addabbo said the process leaves behind chemicals that could affect drinking water.
Ulrich disagreed. He believes that if done correctly it could be an effective way to bring jobs to Queens. "If we can create good paying jobs in New York, get ourselves off of foreign oil, if it can be done safely, I support it because it will create jobs," he said. "It can be done deep down in the soil without impacting water quality. I support jobs, I support energy independence."
When it comes to job creation, Addabbo's plan is based on demanding that the new Resorts World Casino in South Ozone Park hold up its end of a bargain that was reached prior to its construction. The casino was approved on the condition that at least 70 percent of its employees were local residents.
He said in the Oct. 26 debate that he proposes turn the area surrounding the casino into a tourist destination by rezoning to promote building of hotels and condos. He has also talked about a plan to build a large convention center, which bring construction jobs to the area.