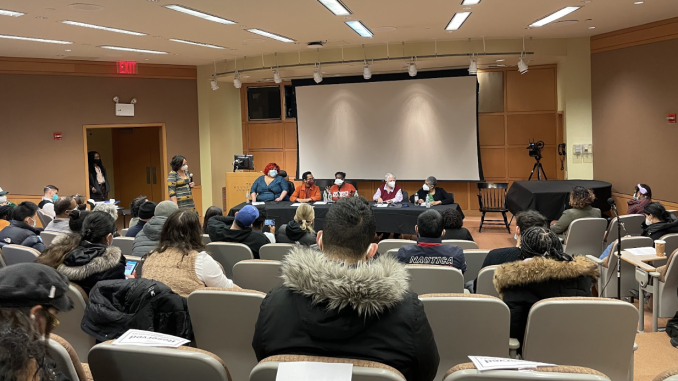 BY WILLIAM HERNANDEZ
On Thursday, March 16, Barbara Smith – the 2022-23 Robert L. Hess Scholar in Residence at Brooklyn College –  led a panel of five individuals at the Woody Tanger Auditorium in the Brooklyn College Library who discussed how to organize social justice efforts. 
With varying experiences and areas of expertise, the panelists contributed to the discussion by relaying their successes, failures, and overall observations within their own movements.
Activism, particularly in today's age, has come to take many forms. From social media posts and hashtags, it is possible to support and participate in movements online. While this support is welcomed, it is the behind-the-scenes organizing of these events that the panelists argued needs more attention to detail, panelists shared.
Laurie Bertram Roberts, a co-founder of the Mississippi Reproductive Freedom Fund, said showing up to a march or rally isn't the only way to participate in activism or social justice movements.  
"We don't need people to just show up to protests. Protesting is not the main work of an activism effort, it is merely a tool. It's just the hype event," Bertram Roberts said.
This was one of the most echoed sentiments on behalf of the panelists who said organizing these events and fundraising are in fact the most vital aspects of activism efforts. While they shared appreciation for those that do make the effort to arrive and participate in protests and rallies, it is null and void if that same person does not make the effort to then attend meetings and town halls related to these movements, for instance.
After all, as said by Smith, "It is not possible to make a change by yourself."
Acknowledging that people are less willing to participate in the work related to activism efforts and planning, the panelists explained that many people choose not to participate in activism events because of feeling like their voices or  potential contributions don't matter or are less significant due to their background, race, religion, etc. 
Adrien Salazar, a Filipino-American climate justice advocate, reiterated  this sentiment when discussing his own Filipino people and passionately dispelled the common misconception.
"Demographics is not destiny… we fight for a world where we can all thrive," Salazar said. 
The panelists went on to explain that even the "smallest efforts" – such as creating graphics for events – can be a  huge contribution to activism efforts, perhaps even more important than participating in protests. 
By people contributing the best of their individual talents to the cause(s) there is a greater chance of there being more consistent exposure, participation, and therefore a greater chance for consistent change to occur in these movement efforts. 
Smith believes the Brooklyn College community exhibits these strengths. 
"I see people who hang in to help students who haven't been dealt silver spoons… that's why I love Brooklyn College," Smith said.