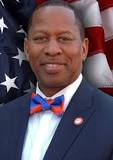 By GLORIA CRUZ
Councilman Andy King, the embattled Bronx politician, kept total silence as he held a news conference on Friday outside his East Gun Hill Road office and let his attorney, Joey Jackson, defend him against waves of demands that he be expelled from the City Council.
Jackson branded the moves to oust the ethically challenged 58-year-old Democrat "character assassination against a councilman who stands up for his community."
The move to expel him gained impetus in the council on Tuesday after an extensive investigation into years-long allegations of stealing city funds, taking bribes, violating council policies and city regulations, harassment, and inappropriate comments towards staff members.
This is the third time similar allegations against King have been levied. King has consistently denied the charges.
Councilman Jimmy Van Bramer who previously with other members attempted to have King expelled in a vote that failed 34-12, tweeted that he would vote a second time to have him removed. "Should have already happened, but this is a good signed," he wrote.
City Council candidate for for a Brooklyn seat, Elizabeth Adams, said that past inaction by the members "put staff at risk of abuse," and "exposed the deep gaps in workplace harassment protections and showed how much further we have to go in standing with workers and trusting women."
But Jackson warned against a rush to judgement. "All we ask for is fairness, all we ask for is justice," he said.