By JOSEPH MODICA
When writer Benjamin Ludwig raised his autistic daughter, he never expected how much he would delve into the lives of children like her. What he learned inspired him to write his debut novel "Ginny Moon."
Ludwig is a 42-year-old former public school teacher from New Hampshire and father of three who spent many years teaching English in both middle school and high school before moving on to writing. Last year, he signed a book deal with Park Row Books to publish his upcoming young adult novel.
"Ginny Moon is a 14-year-old who is adopted from the foster care system, and as soon she is adopted, she immediately begins plotting her own kidnapping," said Ludwig. "She wants to get back to her birth mother for a, one would call, a mysterious reason."
Ludwig's daughter, who is now 17 years old, was not the basis for his novel, he said, but caring for her exposed Ludwig to the lives of other autistic children. He crafted his protagonist and story around his experiences in meeting and talking to parents who also have special needs children.
"When my wife and I adopted our daughter, that really became our world," Ludwig said. "We met tons and tons of kids in care and also foster parents, therapists, social workers. So hearing all of their stories really is what inspired the book."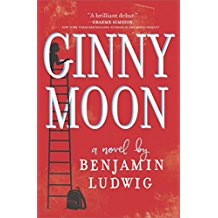 His publisher, Park Row Books, is a new imprint of Harlequin Books that will specialize in literary fiction. It marks the continued expansion of a New York-based company long known for its romance novels.
The Park Row imprint is named after the lower Manhattan street nicknamed "Newspaper Row" because of a hub of newspaper offices there in the beginning of the 20th century. Aside from "Ginny Moon," Park Row Books plans to release titles of two unannounced books by New York Times bestselling authors Mary Kubica and Heather Gudenkauf.
For a first-time novelist like Ludwig, it's a coup to be a major part of such a launch.
While not his first published work, "Ginny Moon" will be his debut novel, which he said does not pressure him.
Ludwig said he was surprised that his book would launch the new imprint, but said the challenge didn't worry him. He said he felt he had a "good handle" on the publishing industry after dealing with Park Row Books and with the release of his novella "Sourdough," by Texas Review Press in 2014. Before that, he published in education journals and small literary magazines.
"When I initially signed the contract with my agent, Jeff Kleinman, and the publisher, we were just another title," Ludwig said. "`Ginny Moon' was just another book that Park Row had acquired. It took about six months … that's when they decided to make it the inaugural title."
The book got off to a good start with Publishers Weekly and Booklist giving it starred reviews. "Ludwig's excellent debut is both a unique coming-of-age tale and a powerful affirmation of the fragility and strength of families," Publishers Weekly said.
Ludwig's advises a would-be author to find an agent, whom you have to pitch your idea to, with some samples and a summary. If the agent likes your idea, you'll be offered a contract, he said. From there, the agent will take the book and submit it to the publishers.
To amateur writers, he believes that reaching the end of a project is the most important part of writing. To aspiring writers, he stresses that completing the project is the most important step. "You have to see the end of your works, so you can see how you could have improved the beginning … which is unfortunate because novels are so darn long," he said,
"You have to [write] a whole bunch of books before you become comfortable in that form… but you learn from them, and that's what is really important."
"Ginny Moon" is set to release on May 2.