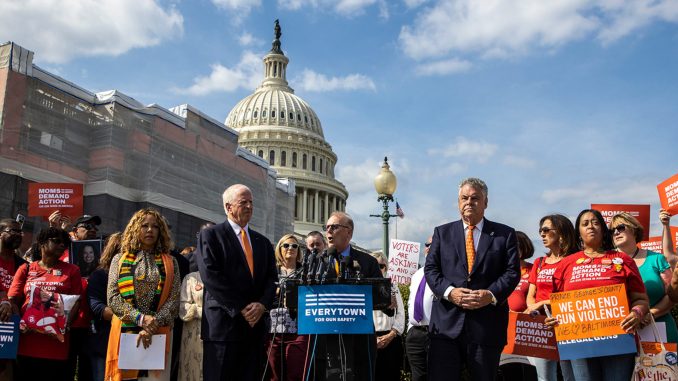 By PAMELA TUWAIDAN
 On Thursday, Everytown for Gun Safety, which attempts to fight gun violence in the country, hosted a press conference pushing their anti-gun agenda.
The first speaker was Shannon Watts, founder of Moms Demand Action, who said protecting school children is highest on their list of goals.
"First we have to protect students from the dangers of gunfire on school grounds," Watts said.
She added, "We . . . have to reject so-called solutions that actually can traumatize students," such as "measures like arming teachers . . ."
(On its website Everytown, says, "In 2021 there were at least 101 incidents of gunfire on school grounds, resulting in 21 deaths and 56 injuries nationally.")
Just the day before the gathering, on Wednesday, four people were hurt in a shooting at Timberview High School in Arlington, Texas. The suspect, an 18-year-old student, fled the scene and was taken into custody hours later, authorities said.
Watts praised the administration of President Jo Biden and Vice President Kamala Harris for what it's been doing. "The Biden-Harris administration has been the strongest on gun safety in this generation, and we see a real opportunity here for them to continue that work, particularly in providing best practices on secure storage notifications . . . and setting standards for active shooter drills that are trauma informed," Watts said.
The next speaker was Becky Pringle, president of the National Education Association, who said, "(W)e are tired of being ignored by those who are bought and paid for by the NRA (National Rifle Association) and the gun lobby."
Present also at the Thursday event was Randi Weingarten, president of the American Federation of Teachers. "We know what will work to prevent gun violence… It shouldn't be controversial."
She added, "When is enough going to be enough?"
Dr. Joe Erardi, former Superintendent of Schools in Newtown, Ct., said a key part of the solution is identifying potential shooters with mental health issues.
He said people have to be willing to be mentors to those in emotional need.
The Sandy Hook Elementary School shooting, in December of 2021, took the lives of 20 children between six and seven years old, as well as six adult staff members. It was the deadliest mass shooting at a U.S. elementary school in history. Twenty-year-old Adam Lanza had carried out the shooting. He had killed his mother prior to the school attack and then committed suicide.
Gun violence incidents don't just happen by accident, former Newtown school superintendent Erardi said: They are planned. If Lanza's mother and others had been open about Lanza's problems and tried to confront them with him, "I am certain that the tragedy in Newtown would not have taken place," Erardi said.