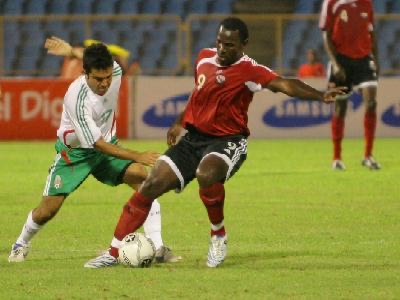 By PAULINA VAIRO
It was Errol's McFarlane's first practice with his new soccer team in Iceland. He was full of adrenaline and excitement, but that all changed when he walked into his locker for the first time and saw the word "N****R" written on his locker. This was just the beginning of a long journey through West Indian player's professional soccer career overseas.
McFarlane is a former professional soccer player from Trinidad and Tobago who spent his career playing in Lebanon, Iceland, China, Trinidad, and the United States. He was also apart of the Trinidad and Tobago national team where he made 38 appearances for the senior team. McFarlane now works as coaching manager for Super Soccer Stars and Soccer Stars United, a youth soccer program for children ages 1-17 years of age.
He started his soccer career playing for the Nassau Lions of Nassau Community College on Long Island. After a year he transferred next door to Hofstra University to play Division I soccer for the Hofstra Pride. While playing for Hofstra, he was offered an opportunity to try out for a professional team in Beirut by one of his teammate's fathers.
McFarlane was skeptical a first. This was 2000 when there was high tension between the United States and the Middle East. Nonetheless, he agreed to go. After a month in Beirut, Errol was offered a contract to play for Nejmeh SC, a Lebanese pro team. But the outsider was was given a cold shoulder by his teammates. Because they knew he could not speak Arabic, they began to say racial slurs to him and laughed in front of his face. So he hired a translator and a tutor to help him learn Arabic and the meaning of their words dawned.\
"It was very disheartening because I thought we were cool," he said. "If I can use that word, because they were my teammates, but it turned out to know that they were not really too keen of me being there because they knew I was much better than they were, so it was competition for playing time and just the fact that I was a Black person too."
There were times when opposing players spat on him and he was called names by both opposing players and fans. It took him nine months to be accepted by his teammates and fans in Lebanon. He was also able to speak fluent Arabic after nine months.
After spending two years in Lebanon, McFarlane won a contract to play in Iceland in 2002. This was where in his first practice with the team teammates wrote the N-word in his locker. They made it clear that they thought he did not belong because he was the only Black player on the club.
This all turned around when Errol started to perform on the team, bringing them success that they had not had in a long time. Not only did his teammates begin to warm up to him but the fans did too.
"The fans were the people that warmed up to me first because fans have a different perspective on how they view the team," said McFarlane. "Some are very passionate on what they expect, because they see you working hard, there is a result from it. So that is why the fans accepted me a little more than my teammates, but my teammates eventually slowly came around"
To protect himself, McFarlane made sure he was not out late at night in unfamiliar areas. Being mindful is extremely important when in countries where you are not a "regular person".
Living in both the Middle East and Europe, the young man had experienced the worst cases of racial abuse, worse than in the United States. It was overwhelming as a 19-year-old just beginning his professional playing career. There were times where he broke down and sat in his room to cry after every practice because he just did not know what he did to deserve this kind of abuse.
What kept him grounded were the values instilled in him by his parents to never give up and to never let the negativity of someone else be the reason you cannot succeed.
"You can either retire in a way that is not productive or just become broken and become introverted and not want to be part of society and not want to be part of the world" he observed. I am grateful that I had enough substance in me from my parents that I was able to weather the storm, even though I had my lows, I had more highs than lows."
Besides Iceland and Lebanon, McFarlane played about nine months in 2008 in China where he did not experience racial abuse. But he disliked the food there; live animals sometimes came on his plate.
The final years of McFarlane's professional career was spent in upstate New York with the Rochester Rhinos. Soon after his playing career ended he got involved in coaching in the New York, New Jersey, and Connecticut area.
Racism has abated in sports since McFarlane's playing days.Today players of all colors and backgrounds are seen kneeling and paying respect to the Black Lives Matter movement, especially in England and in the United States. Society is making it clear that there is no room for racism, especially in sports.
"I will encourage any kid who is experiencing racial abuse to reach out to your club because there are resources now that can help address that issue in any environment that they are facing,' McFarlane said. "Back then, we did not have that type of resource. As a Black athlete, you were left to kinda deal with those experiences on your own. It was about how mentally tough you were as a kid and the situations you were put in if you were able to overcome those situations."