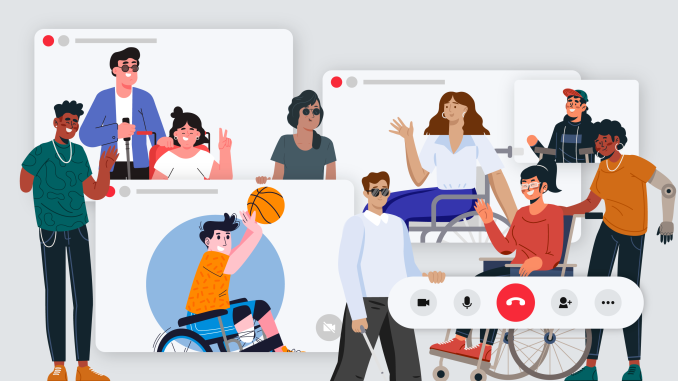 By SHIRLEY ALVAREZ
The pandemic hasn't stopped disabled New Yorkers from advocating for equal education.
CUNY Coalition for Students with Disabilities, CCSD, held their fourth annual and second virtual rally on Feb. 10.
More than 400 participants called for an increase of the education budget for disabled students to $15 million budget, about six times higher than the budget secured last year.
Chair of the coalition, Lennyn Jacobs believes 2022 is the time for students with disabilities to thrive.
"We will not allow the needs of students with disabilities to be ignore," said Jacobs
"The time is now for the state to provide adequate funding for enhancing disability services. The time is now to finally allow students with intellectual disabilities to be eligible for TAP. The time is now New York," said Jacobs.
The CCDS showed a video listing some of the equipment and devices available to make higher education more accessible for disabled students.  The list included assistive technology training, braille/ talking calculators, digital textbooks, electronic readers and noise cancellation headphones.
Several New York State representatives showed their support to fight for $15 million.
"Education is a great equalizer," Assembly member Harvey Epstein said. "We want to make sure we extend opportunities for everyone and leave no one behind.
"We have the responsibility to remove the barriers to students and empower students with disabilities to make sure that is successful," said Epstein.
State Senator Andrew Gounardes felt moved by everything the coalition has built to support this cause. He highlighted the $2 million the CCSD obtained last year to support disabled students. But he is not satisfied.
"We are thankful for that, but it's not enough," said Gounardes. We want to take the whole pot. So today is about marshaling our voice and joining together to make sure we're heard loud and clear… to support this incredibly special population."
Many more showed their support to the CCSD.
"We want to make sure the Senate is dedicating the resources and expertise needed to implement meaningful policies that improve the lives of New Yorkers with a disability," said State Senator John Mannion.
"Fifteen million is a start. And it really should be an investment to support our students attending higher institutions," said Dr. Betty Rosa, Commissioner of Education and President of the University of The State of New York.
Among many others, CUNY Brooklyn College student Sadiya Hoque attended the virtual rally to represent college students around New York.
Remarking this budget is crucial for disabled students to graduate on time. "Now is time to expand services like counseling and other services to ensure that all disable students receive services they need," said Hoque.
The Brooklyn College Center for Disability offers accommodations for disabled students and drop-in hours. If you or anybody you know needs any accommodations, access their website (HERE).