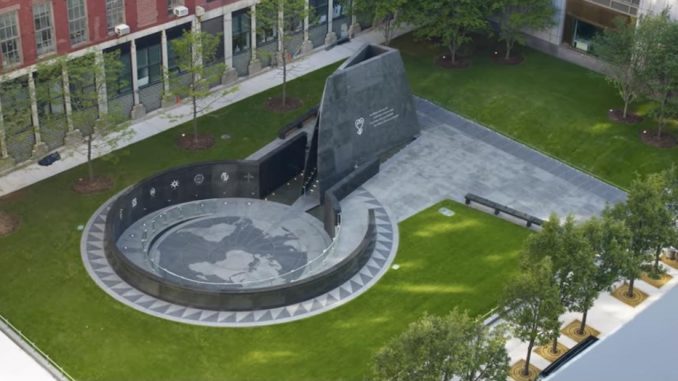 By JULIAN WATSON
Last Thursday marked the 30th anniversary of the African Burial Ground National Monument. The monument, located in Manhattan, houses the remains of 419 enslaved Africans. This is only a fraction of the thousands of other dead slaves buried elsewhere beneath New York City, forgotten under the concrete jungle.
The burial ground itself had been lost in time due to construction of federal buildings. However, it was restored and memorialized in 1991, after mass protests and activism forced previous construction in the area to be halted.
The Burial Ground was recently re-opened to the public, after the lifting of pandemic restrictions.
"It would be deemed as one of the greatest archaeological discoveries of the 20th century. There are seven sarcophagi under the ground, and the remains of 419 enslaved people have been all kept inside these coffins. It was a Negro burial ground that was re-discovered and activism kept it safe," said Kira, one of the park rangers on duty at the Burial Ground. Kira spoke on the condition that only the first name be used.
The Burial Ground has been hosting in-person activities and events since October 4th.
The event on Thursday kicked off with singer Kristina Nicole Miller, showing her love and respect for the meaning of the sacred ground. She sang songs such as "I Put a Spell on You," "Dream World" and "Dance Me to the End of Love".
"It feels good to be connected with a part of the past," Miller said. "It's the 30th anniversary of this national park. It's very ancestral and I didn't even know it was here, after living in New York City for 17 years."
Following her performance, there were drummers Mwata Nubian, Iyedun Ince, and Joyce Jones. Their music reverberated through the ground and captivated an outside audience, drawing numerous passersby with the beat of their earthly drums.