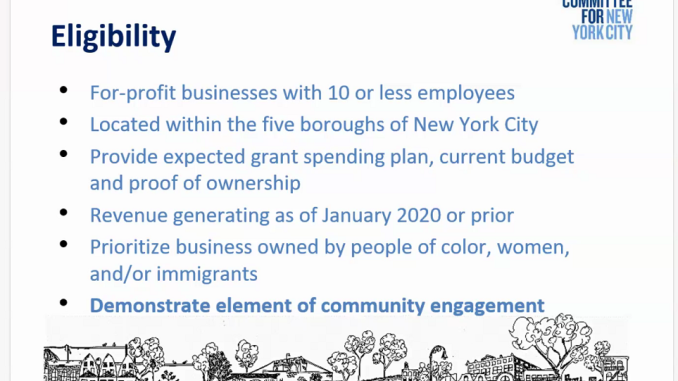 By JOANPOL GUTIERREZ
While companies such as Apple, Tesla and Amazon have been profiting despite the pandemic, many New York City small businesses have closed due to the lockdowns and lack of business because of COVID-19.
In an effort to prevent the closure of local small businesses, The Citizens Committee for New York City (CitizensNY) is offering grants up to $10,000 to small business owners that are facing scarcity because of COVID-19. CitizensNYC is a non-profit organization whose mission is to "help New Yorkers—especially those in low-income communities—come together and improve the quality of life in their neighborhoods." It held a virtual information session on Feb. 3 about the grants.
Gina Ramcharan, Neighborhood Business Grants Consultant of CitizensNY, explained that businesses that are owned by women, people of color, immigrants including "undocumented immigrants that were prohibited to apply for PPP" (Paycheck Protection Program) are prioritized for the business grant.
The PPP, a federal program, "provided small businesses with funds to pay up to 8 weeks of payroll costs including benefits. Funds can also be used to pay interest on mortgages, rent, and utilities." It ran out last May.
Ramcharan gave examples of the kinds of businesses that CitizensNY has already helped. She mentioned Figure 8 Studio, located in South Ozone Park, Queens, a business with a focus on teaching diverse dances from different cultures, was one of the many recipients that benefited from a small business grant.
The studio was forced to close during the peak of the pandemic, but with grant it was able to install HVAC filters, adapt their space to adhere to the city guidelines and purchased additional PPE (personal protective equipment).
Another grant recipient that was facing closure of his business was the owner of Enoch's Bike Shop, Enoch Cooper, a Panamanian immigrant. Cooper sells to his community highly customizable bike parts for an affordable price.  He was able to change his business infrastructure to "allow proper social distancing. Better ventilation and sanitation. We're proud to say we put the brakes on closing Enoch's bicycle shop," said Ramcharan.
"We also amplify voices across the five boroughs," she said, explaining that the non-profit also helps the communities by conducting surveys, creating forums for the citizens who want to voice what is affecting them. "[We] bring people across our city together to generate solutions for though problems," she said.
To be eligible for a grant, the business must have 10 or less employees and located within the five boroughs of New York City. Applicants must provide business records for the years of 2019, 2020 and 2021 and a grant spending plan, along with a snapshot of their current monthly budget.
The requirement that holds the most weight, said Ramcharan, is how their business engages the community where they are located. "How is your business a game changer in your surrounding community?"