By Alfonsina Venegas
On August 2018, a UN committee heard that up to one million Uighur Muslims and other Muslims groups were being detained in the western Xinjiang region of China, where they 're said to be undergoing "re-education" programs. As the situation of millions of Chinese Muslims -detained in places that resemble concentration camps- is uncertain, the Council on Foreign Relations organized a lecture on the subject last Thursday.
Invited to participate on the panel were: Ms Gay J. McDoughall, Vice Chair of the Committee on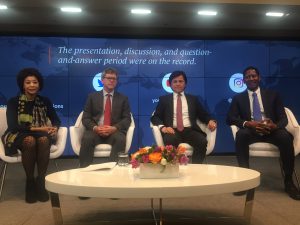 the Elimination of Racial Discrimination, James A. Millward, Professor of Intersocietal History at Georgetown University, and Nury A. Turkel, Chairman of the Board of Directors, Uyghur Human Rights Project. Presiding the panel was Calvin Sims, President and Chief Executive Officer at International House.
James Millward started the discussion by saying:
It's important to remember that this whole issue with the Uighurs and how they stay into the People's Republic of China goes back to the 18th century, when this territory of Xinjiang was brought under the control of Beijing. Millward said that throughout the 20th century, The PRC never dealt with the issue of ethnic differences. He asserts that since decades, the government of China have been nervous about their own system of dealing with ethnic diversity, which he believes, is superficially modeled after that of the Soviets.
"Particularly since 2008-2009 when there were very serious riots in Tibet and the Uighur region, there were great concerns that maybe the system was actually reinforcing ethnic differences rather than paving the way for a stable future in China", Millward said.
More recently with Xi  Jinping coming to power… he's trying to institute a new kind of "state call" in which he plays on Communist values and traditions…a lot is centered on this notion of a uniformed Chinese ethnicity, meant as a Pan-Chinese identity that includes all of the other groups."
Millward mentions the invention of techniques and technology of state control reaching a new level in China. He said that in 2016 a new high tech surveillance system was put in place in the Xinjiang region to keep Muslims a and their activities under investigation. China's president is really trying to unify Chinese identity, Millward says, and the cultural differences become a serious problem in the minds of Beijing. In this sense, the Ughirs are seen as a source of instability by the Chinese government.
Ms McDoughall, a member of the United Nations Office of the High Commissioner for Human Rights said:
"For whatever reasons there was not a lot of attention to this issue until the UN Committee on Racial Discrimination I sat on, last year. We had a regular periodic review of China and its policies, laws on ethnic and racial discrimination and  I came across this issue. The was a murmur of shock going through the audience. China sent a very large delegation. We are deeply concerned; we received numerous and credible reports that, in the name of combating religious extremism and maintaining social stability , the state party, China, has turned the Uighur autonomous region into something that resembles a massive internment camp that is operating in secrecy. Then you have the constant surveillance in the streets."
Nury A. Turkel said:
"This is the not the first time that the Uighur people suffer the systematic repression in China, but this one is very different because it has a very strong racist character. In the past, for example, during the the Cultural Revolution, intellectuals were sent to raise pigs like the way that they do it (in a similar way) converting  mosques into something else, locking up large number of intellectuals, but his time they are attacking the very existence of the national identity of the people. China has always…….. that they have done this for security purposes, but when you look at the people that they lock up you will be amazed. We have world known scholars, stage performers, athletes poets, social business elites, medical doctors, some of them model citizens in the past promoted by the Chinese government, now, they are also gone. And one of them actually got imposed the death penalty. So do you really achieve social stability or national security by locking up renowned scholars that you promoted once upon a time?"
After the panel, many guests wanted to ask a myriad of questions to the panelists. Unfortunately, time went out most questions remained unanswered.
Thursday's event was in commemoration of the late Arthur C. Helton as a Memorial Lecture in his name.
Arthur C. Helton was Director of Peace and Conflict Studies and senior fellow for Refugee Studies and preventive Action at CFR.  He died in the 2003 Canal Hotel bombing while he was in Baghdad to assess humanitarian conditions in Iraq.