By JONATHAN GOMEZ
Inside of Common Grounds coffee shop at the corner of Tompkins and Putnam avenues, Tremaine Wright stands behind the counter ready to discuss the trending topic of gentrification that has plagued her beloved Bedford-Stuyvesant.
The first question I ask Wright, who is African American, is what she thinks about the racial implications that come with the trending topic. Her eyes immediately widen and she makes a face as if this question has become all too common.
"Although white privileged are the face of gentrification there is a stable wave of young black professionals moving into Bed-Stuy, so there is no difference," Wright says as she foams a cappuccino for one of her customers. "There really is no difference when you understand what gentrification is. A gentrifier is a gentrifier, white or black."
Wright, 42, opened the doors to Common Grounds nearly eight years ago and has served her community beyond the morning cups of iced coffee and "not too sweet" ring danishes; she has served as a key member of the Community Board 3 since 2002.
As she rings up her customer she uses "gentrifiers" again, catching the attention of Ron Hughes, a neighborhood resident and frequent customer of Common Grounds who seems weary of the word that Tremaine and I are throwing it around.
"Why do you keep saying black gentrifiers?" asks Hughes, a 70-year-old retired African American social studies teacher who has called Bedford-Stuyvesant home for more than 40 years. "Black people cannot be referred to as gentrifiers; it just isn't possible."
For Hughes gentrification boils down to one thing: race, the factor that leads the constant conversation on gentrification of Bedford-Stuyvesant.
"Black people become a fabric of the community. They don't come into this community and push anyone out," Hughes says with a reprimanding tone. "These young whites are just a forerunner for the settlers. They're here to push us out and take over what is ours. That is the nature of white people in this country."
Others are ready for a new discussion that will put less emphasis on the race of the gentrifiers and start to look for solutions that build on the neighborhood's existing culture and history. It was that history which drew me into wanting to understand what the people in Bed-Stuy are feeling during this watershed moment. Having friends and family live in that community within the last 10 years also made me wonder what kept them there and why people suddenly began leaving.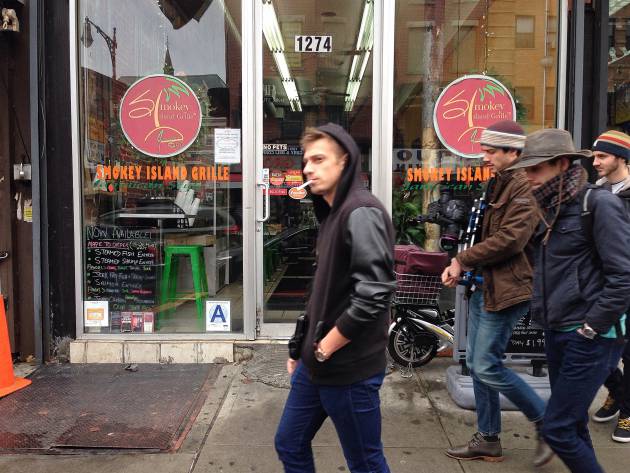 Census data do indeed show a significant racial shift in Bedford-Stuyvesant, giving rise to a feeling among Hughes and many other longtime black residents that the black community is being systematically pushed out. But residents like Wright see the change as part of an economic evolution of New York City and believe that it is far too simple to point a finger at any single component of the process.
"I don't think that the racial implications are helpful, and if you want to blame anyone you blame the developers and international corporations," Wright says. "Ultimately it is a function of what is happening in the city, not just Bed-Stuy, and with escalating rents in this community of course people are going to have to leave and that is what's going on here."
What is happening in Bed-Stuy is a socioeconomic evolution that has been occurring in many neighborhoods throughout the city. With gentrification, the word "affordability" drops out of a neighborhood's vocabulary; low-income families can't afford rent. The bullet proof liquor stores are now replaced with coffee shops, trendy bars and expensive restaurants. Decrepit residential buildings are now becoming sleek and stylish apartment complexes.
Hughes sees it in racial terms.
"My homes are paid off, and I'm not going to sell. Instead I will help the people from my community stay in hold on to what is already theirs," says Hughes. "Black people cannot have anything of their own without them wanting to take it away."
The truth is that there is a large increase in the neighborhood's white population. According to census data, Bedford-Stuyvesant has a population of 135,000. As of 2013, 63 percent of the community was black, a number much larger than the 25 percent that is white. But that is a significant change since 2000, when only 1.5 percent of the population was white. As black renters are forced out by rising prices, the tenants moving in are often wealthier whites.
But experts caution against seeing gentrification solely in racial terms.
Sharon Zukin, a professor of sociology at Brooklyn College and author of "Naked City: The Death and Life of Authentic Urban Places," says that a racial overtone is easily adopted when a neighborhood is being "overtaken" by whites, even though gentrification begins as a class phenomenon. She says that the history and cultural design of Bed-Stuy causes some of the disparity and tension between the races.
"There are a lot of black gentrifiers and mixed race gentrifiers; it isn't just white people," Zukin says. "White people are visibly different. Their culture patterns are different of the people who live in that neighborhood, so it becomes easier for them to be the ones at fault for the current state of a community."
Non-white gentrifiers can walk throughout Bedford-Stuyvesant without being chastised by longstanding community members. Not only do they have the advantage of being on the same side of the racial divide, but culturally they may have a lot more in common than their white counterparts.
Caridad Hernandez, 26, a Latina who moved to Bedford-Stuyvesant from Miami in 2013, said she has done her best to adopt the local culture and community. She seems to get what this community is about, and isn't blind to the changes it is going through.
"I walk around and see all these white faces and it makes me feel like this community is dying, whether it is a bar that used to be a majority black and Hispanic or it is just the basic places in this community, the change is noticeable," says Hernandez, a public relations coordinator. "I have lived here for a year and came for the opportunities that New York City has to offer, but I came to Bed-Stuy to be with my people, not to be surrounded by gentrifiers who do not appreciate the culture that made this place special."
Hernandez is sensitive to the neighborhood's African-American culture, but notes that she and her two roommates pay over $3,000 a month for a three-bedroom apartment, which places her in the wave of gentrifiers.
"It's different, because I didn't come here calling the cops on Spike Lee's father, no, I came here knowing that this was a historic community," she says when I ask about that. "Sure our rent is a bit absurd, but we don't disrespect this community or anyone who helped build it."
Yet the willingness of newcomers to pay high rents that the market will bear is one of the reasons property owners feel they can push longtime residents out.
And so even as the debate about white gentrifiers continues, many feel that the conversation should focus on the socioeconomic shift rather than put races against one another.
"I would argue that my neighborhood is undergoing dramatic change, but the so called crisis that we're facing in Bedford-Stuyvesant is a housing crisis for namely renters in low and moderate income who live in market- rate housing," says Richard Flateau of Flateau Realty Group.
A report by Citi-data.com supports that. It shows that in 2011, the average rent in Bedford-Stuyvesant for a one-bedroom apartment was around $933 a month. Only four years later, residents are paying close to $2,000 a month for that same one-bedroom apartment. In a matter of four years there has been a 115 percent increase. In 2005, the cost for a one-bedroom apartment averaged $720 a month.
That trend makes it clear there will be few low-income residents in a matter of a few years. That's why many longtime renters are starting to see that moving out of Bedford-Stuyvesant is their only option.
"We just had a son, our landlord was raising our rent again and my husband and I thought it would be better for us all financially and mentally to move to Atlanta," says Kristy Wright, 38, who headed south to Atlanta in 2008 to find a more affordable place to raise her son Elijah. "We moved into a two-bedroom apartment here and that was about $1000 a month, something we would have paid close to double for back home in Bed-Stuy."
Even so there are many who see a silver lining in the changes that have taken place.
"It's no surprise that in a neighborhood that has some of the best housing stock in New York City that it's now going to be wanted by people with means. So rather than say the white people are coming or claim that there is a crisis we have to, excuse the expression, get our shit together," Mark Winston Griffith, director of the Brooklyn Movement Center, said last November during a panel discussion at Brooklyn College called "Bed-Stuy in Crisis." "We have to push back and we have to create the neighborhood we want and we have to understand the dynamics that are creating this."
According to Griffith, some changes benefit the residents of Bedford-Stuyvesant: having better food options and safer streets, for example. What he does not want to see is the counterproductive blame game that does nothing but cause animosity and anger in a community that has dealt with that for way too long.
"Instead of looking at the white person that's moving next to you and blaming it on them because they want to live in this beautiful home, why don't we understand the government policies and corporate forces that have made that possible and have transformed our neighborhood," he said.
Today along with Griffith there are people having a conversation that isn't driven by the racial division, but instead focuses on drawing from the strengths of the black community.
"Community diversity, community growth, a blending of the past and present for a united future," says Kristy Wright. "I go back and it makes me sad how it has changed, but I know that there are still people who are maintaining the culture of that beautiful community."
Mike Brooks, co-owner of Bed-Vine wine and beer- across the street from Common Grounds coffee shop at Tompkins and Putnam avenues– is also trying to help the community maintain its culture. Brooks, who is black, says that he understands where the bitterness, outrage and frustration come from. But for him, he says, the gentrification issue is about what his and other black-owned businesses can do to sustain the neighborhood foundation that was established over 50 years ago.
"It's important to have a black-owned business so that the resources will stay in the community," says Brooks. "We're trying to be a business that's a part of this community so people will realize that you can thrive in your own community.
Before there wasn't an option to spend your money in this neighborhood; with these black-owned businesses we offer hope for maintaining something special."
Tremaine Wright said she understands that the changes in the community are hurting a lot of residents. She adds she would rather put her energy into helping the community than fall into a debate that is driven by racial implications.
Says Wright: "I expect for people to come here and support this community and I expect that anyone, regardless of their race, come in and treat this community like it was their own home, because this community deserves that."
Photo, top: The Slave Theater was a cultural hub for Bedford-Stuyvesant.