By JOSEPH MODICA
When Independent Bookstore Day kicked off on the last Saturday of April, the shop owners were hoping to ring in large crowds.
Independent Bookstore Day is a yearly event in which indie bookstores around the country are encouraged to celebrate authors, illustrators and publishers in their own ways.
Greenlight Bookstore, located at 686 Fulton St. in Fort Greene, had events slated for the day to celebrate local talent.
In 2007, Rebecca Fitting and Jessica Bagnulo, both veterans of the publishing industry, had the idea to open a bookstore. Coincidentally, at the same time, the Fort Greene Association ran a survey that asked residents what they would want to see the most in their neighborhood. Their number one answer: a bookstore.
The one-day celebration offered an immediate boost. "We would make about 20 percent more than an average Saturday," Fitting said.
And bookstores need help.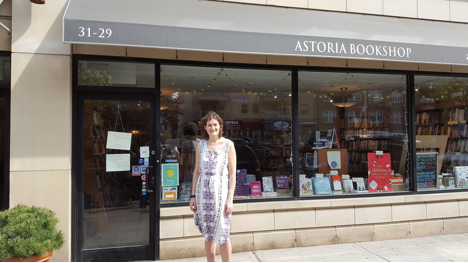 For the last decade, independent bookstores appeared to have been in a slow decline. Battling major online retailers like Amazon. The market shrank significantly for them. Indie sellers struggled with creating their social media footprint and the prevalence of e-books.
This, along with the 2008 recession, has slashed into their profits. Bookstore sales were $17 billion as recently as 2007 and were at $11 billion in 2015, according to U.S. Census Bureau data.
There is no marked improvement this year so far. Sales are estimated to be around $1.4 billion in January, $690 million in February, and $725 million in March this year, a number that has been stagnant since 2013, says another study done by the U.S. Census Bureau.
However, residents have high hopes to turn this trend around, not wanting to see their beloved indie bookstores disappear. Thanks to the downsizing of larger book chains like Barnes & Noble, and emphasis on locally sourced products in cities, there is revitalized interest in indie bookstores.
In 2016, according to the American Booksellers Association, 87 new bookstores  opened in the U.S., translating into a 42.6 percent increase from 2015 — defying the lukewarm sales.
Communities have come to love indie bookstore not just for their novelty, but for their contributions back to a community. Local bookstores donate and contribute to local charities and events, and also host their own events for the community.
At the Greenlight Bookstore event, a photo booth off to the side let customers talk and take photos with featured local authors. Near the register, shirts and totes with the shop's name on it were offered for a price to anyone checking out. At the back of the store, a table was set up for children's activities.
The yellow finish of the wood floors was scratched and worn to a dull gray in between the narrow aisles of filled bookshelves that reach to the ceiling. Customers placed their umbrellas in a small bucket next to the door, knowing that the would still be there when they return. Parents left their baby strollers by the entrance unattended to browse while their children ran off to a booth set up for arts and crafts.
For Casey O'Rourke, 30, a resident of Fort Greene, this was his first time to a store hosting Independent Bookstore Day. "It's great to see the predicted death of the physical book is an exaggeration."
"I think they're fantastic" said Bedford-Stuyvesant resident Jeremy Sitnick, 40, who loves the idea of an indie bookstore in his area. "It's great being exposed to new books."
In Queens, Astoria Bookshop had set up its own plans for the evening. Tucked underneath the overhead train tracks, Astoria Bookshop is a small bookstore located at 31-29 31st St. Launched almost four years ago, Astoria Bookshop has been doing Independent Bookstore Day for the last three years.
This year, the staff set up its own service called "Book Prescription Booth,"  a staff recommendation based on a customer's preference, with a 10 percent discount tacked on. The store also invited a local illustrator to come in to run a drawing table for kids.
In partnership with another bookstore, customers can bring their receipt to Housing Works, a Manhattan-based charity that provides services to people affected by HIV/AIDS, for an additional 10 percent at Astoria Bookshop or a free drink at Housing Works' line of stores.
Described by the store's events manager, Kisky Holwerda, as "Astoria's only general interest bookstore," the Astoria Bookshop is one of the last vestiges of an industry that has disappeared recently in Queens. Just last year, Barnes & Noble closed both of its stores in Queens , leaving residents fewer options.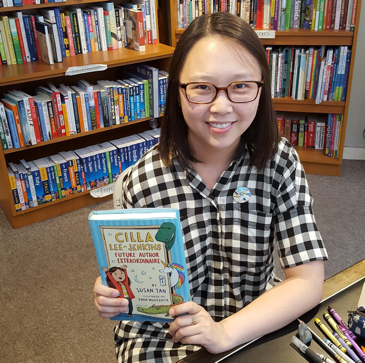 Seated at a small children's table, Dana Wulfekotte, an animator and illustrator living in Astoria, drew colorful cartoon characters on a sheet of paper as part of the children's event. There  "I believe it's a great day to celebrate books," said Wulfekotte, "it is important especially as [Astoria Bookshop] is one of the last in Queens."
Astoria Bookshop's owner, Lexi Beach, a publishing veteran, hurried around the store assisting customers and manning the register. This event in particular can expect a big turnout for the store. "I would not be surprised if we did twice as good as we do on a typical Saturday," Beach said.
"It is sort of an all-day extravaganza," said Holwerda. "Independent Bookstore Day has been one our biggest days of the year. It is really wonderful to see so many people turn out to support independent bookstores and everyone is so excited, it's just a great mood, it's a great day, so we expect a lot of people to come in."
Jackson Heights resident Bill Bruno, a regular customer, is very supportive of the store. "Independent bookstores are responsive to local needs and trends," he said.
"I think they're an important business, with one role among many," said Astoria resident Amanda Writh, yelling as the N train came thundering through.
"I think they're incredibly important," said David Kirtley, freelance author, host of the podcast  "Geek's Guide to the Galaxy" for Wired magazine, and occasional shopper at Astoria Bookstore. "There was a period of time where it seemed like independent bookstores were dying out, – but it seems to have basically flattened out."
"With bookstores I think it is becoming more of a thing," added Stephanie Grossman, publishing industry veteran and marketing associate at JSTOR, and also Kirtley's companion. "Especially since people are moving into that local mindset where it is better to get produce that was farmed in a farm right outside the city than in other countries. I think it is the same mindset with bookstores, we want more mom and pop bookstores."
Photo, top: Rebecca Fitting, co-owner of Greenlight Bookstore in Fort Greene.