By Brianna Mikes
There is hope on Long Island. But some believe that Nassau County residents and, indeed, the country, are living in dangerous times.
"Two thousand nineteen is the most dangerous time in the history of Jewish people since the end of the Holocaust," asserted Steve Markowitz, Chairman of the Holocaust Memorial & Tolerance Center of Nassau County.
"What's going on worldwide is beyond anything we could've anticipated. It's not just the Jewish Community. What happened to the Muslims in New Zealand, what happened to the Catholic churches in Sri Lanka, what happens in black churches in the United States, and then what happened in Pittsburgh reminds us that the forces of evil are still with us."
On Thursday, Markowitz joined with Nassau County officials in a somber remembrance of the Holocaust.
The Jewish Community Relations Council of Long Island held a safety and security briefing, along with Nassau County Executive Laura Curran, Police Commissioner Patrick Ryder, and District Attorney Madeline Singas.
After a press conference, County Executive Curran and County Legislator Ellen Birnbaum hosted a Yom HaShoah (Holocaust Remembrance Day) recognition ceremony.
"What we want to do today is to reassure all of our residents that no matter how you worship, no matter who you worship, we're doing everything we can to make sure it is safe to worship in Nassau County," declared Curran. "Our police department has been very responsive and incredibly proactive. We have a very tight plan, if, God forbid, something should happen in one of our houses of worship.
"I understand the fear," Curran added. "I hear it. And I want to make sure that we're doing everything we possibly can to make sure it doesn't happen here."
"We have our Rave app in all 56 school districts, all 43o buildings," said Commissioner Ryder. "We have been in more than half of our libraries already. We cannot stop and prevent every active shooter that wants to happen, but we can prepare better to make sure we take care of those and do what is right when the time does happen. We continue to watch and monitor social media for individuals that concern us, and we are continuing to stay on top of that to make sure that you continue to have the service you deserve."
According to the Rave app's website, it can "in seconds, clearly communicate an emergency to 9-1-1, on-site personnel, and first responders."
The District Attorney stated that she felt a strong measure of peace, given what authorities are doing.
"As a mother, I feel safe in Nassau County knowing that there is someone like Commissioner Ryder and someone like our County Executive who is at the helm making sure that she's responsive and making sure that she is communicative," said Singas.
"Hate crimes are especially heinous because they attack not only a person and harm them physically, but try to harm their souls and their spirits, and they try to instill fear in communities. As communities, we should stand up strongly against that and fight against that.
"So, I ask everyone here to do something for someone else that they might not normally – open up your homes to someone who doesn't look like you, introduce your children to someone different," Singas added. "Let's celebrate our differences. And, with these small steps, we can make a difference."
County Legislat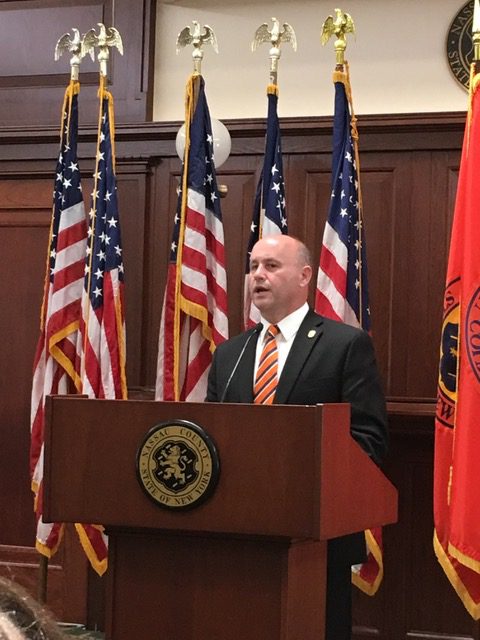 or Birnbaum saudm "In the United States, Holocaust Remembrance Day, which is today, May 2nd, was first observed in 1979. It is now a day of commemoration for people worldwide. It memorializes the heroism of Jewish people and other faiths who died in the Holocaust between 1933 and 1945."
A few seconds of silence followed, showing respect for those whose lives were lost.
A Holocaust survivor by the name of Mireille Taub also told her personal story. She was born in Paris and was fortunate enough to have taken the last train out of the country, before France surrendered to the Nazis. Although her train was bombed, she and her family walked to safety and traveled across the Pyrenees, passing through Spain and Portugal, before arriving in New York on August 11, 1940. She was only two years old.
She now volunteers as a docent and educator at the Holocaust Memorial & Tolerance Center and participates in anti-bullying and tolerance programs.
"I actually grew up in Brooklyn a very happy child," Taub said.