By ELIZABETH ELIZALDE
On a calm Sunday morning, Mery's Beauty Salon, located at South 3rd and Havemeyer streets, is the place where the Latina women of the Southside community go to get a hair blowout. Elsy Matos has worked there for 12 years, seven days a week, and from that spot she watches her beloved Williamsburg change.
Matos, 36, moved to Red Hook with her husband after living for 14 years on the Southside. She said that her heart and soul still reside in Los Sures, as the neighborhood is called. And she is determined to preserve the Latino culture of Williamsburg in the midst of what she sees as a hipster invasion.
"Los blankitos nos estan dezplasando," Matos said in a firm tone. "The white people are displacing us."
Matos said her emotions range from sadness to resentment. "I'm not intimidated for the change, but they have taken a huge part of what was ours," she said in Spanish.
"Donde sale un hispano del building, entra un blankito," she said. "When one Hispanic leaves from the building, a white person comes in."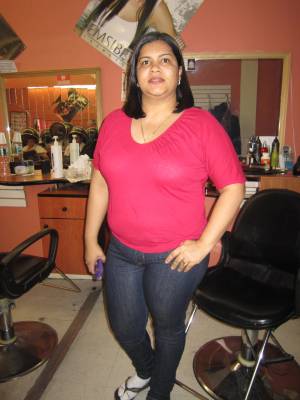 For decades Williamsburg was known as a magnet for Latinos, but that changed when it began to attract young artists who could no longer afford Manhattan rents.
Latinos were displaced when once-affordable rents rose drastically. Then the city rezoned the neighborhood to accommodate luxury high-rises and condos for the wealthy. These high-rises are also beyond the mean of the hipsters who moved into the area. But businesses catering to the hipster community, featuring many a costly product hawked as "artisanal," have also been a factor in displacing Latinos.
"What is very difficult to see is that the neighborhood I grew up in, Williamsburg, Los Sures, does not have what would be in that neighborhood. You once could walk the streets and know your neighbor's name," said Council member Diana Reyna, a Democrat from Williamsburg.
But, she said, some steps are being taken to preserve the Latino presence and culture in Williamsburg. Community-based organizations, churches, elected officials and others are all taking part in efforts to keep and enhance the neighborhood's Latino culture.
"The strong Latino community in Los Sures has been preserved because of an agency that was started 40 years ago by the very people who live here," Reyna said, referring to Southside United Housing Corp., known throughout the neighborhood as Los Sures.  It is a neighborhood preservation corporation that has sought to preserve the Latino presence by advocating for affordable housing.
Reyna also cited El Puente, another non–profit organization known for its advocacy in behalf of Latinos and other minority groups.
Reyna said she focuses concern on the youth as a key to the community's future. "The self-initiative is missing," she said. "The motivation to want to achieve goals is lacking within the Latino youth."
El Puente has focused on youth development, as well as community health, in its initiative to preserve the Latino culture in Williamsburg.
The focus on youth dates back to the organization's founding by Luis Garden Acosta, its president and chief executive officer. He decided to create El Puente because the neighborhood was not the best place to live during the 1970s and '80s due to high crime rates.  As crime dropped, Williamsburg became a place where everyone wanted to move.
That has left a sense among Latinos that, as Mariluz Lopez put it, "We were here first; we were here when things were bad."
Lopez, executive assistant to El Puente Executive Director Frances Lucerna, said the organization has helped to preserve a Latino presence in the neighborhood. "Little by little it has flourished to one of the Latino community's refuge centers of cultural preservation," she said.
El Puente is concerned with issues regarding environment, education, and art and is heavily involved with the community to push for policies that create more space for the community. Espiritu Tierra, or Earth Spirit, Garden on South 2nd street is one such project.
According to Lopez, gentrification is good and bad for the Latino community. The positive is that it integrates different ethnic groups. But it also drives Latinos out of the community due to high apartment rents. "In the midst of this movement, we have to push for more affordable housing," she said.
That has led a number of Latino community group to cooperate with builder David Walentas's project to replace the 150-year-old Domino sugar refinery on the waterfront with 2,200 residential units – including 660 units for affordable housing.
Critics say that such a large development, made up mostly of luxury housing, will accelerate the rise of rents in Williamsburg. But the local groups have decided it's in their people's interest to secure affordable units.
"Gentrification is not going to change in a society like ours. What can change is our response to create affordable housing and making sure that affordable housing is available in each and kind of community," said Public Advocate and mayoral candidate Bill de Blasio. He thinks New York, especially Brooklyn in particular, hasn't done a good of enough job on  affordable housing.
Lopez said that vulnerable Latino landlords who struggle to pay mortgages have been offered a substantial amount of money by real estate developers to sell their property.
"They are opening certain places that are not really Latino, and you don't feel welcome," said Lopez. "It's like I don't belong here. I don't hear my music. I don't hear my language and this is sad."
This is where El Puente's Green Light District initiative comes in. The 10-year plan is to bring the Latino community back on its feet by teaching youths and adults through environmental, arts and education programs. "The youth are the seeds of life," Lopez said.
The Green Light District first launched in 2011 to raise visibility of Latino artists and in general to create a more vibrant and cohesive Latino community. It's an attempt to mobilize the Southside against gentrification by building neighborhood coalitions to fight for health care, and advocate for solutions that will enhance the quality of life.
"We have to be more vocal and we have to use our power more often and that has to be the message for our community that we are very powerful," Lopez said.
For Lopez, being Latina means to be "open and to share" and to be bilingual  –  "the more languages the better," she said.
Census data show the rapid displacement of Latinos from Williamsburg. In 2000, Latinos made up 36 percent of the neighborhood's population. That dropped to 27 percent in 2010.
An especially large drop occurred among Puerto Ricans  and Dominicans during those years, while the Mexican population increased 14 percent, indicating a change in the nationalities of the Latino community, which at one time was predominately Puerto Rican, and later, also Dominican.
But not everyone in the Latino community opposes the gentrification. Vimcio Perez has been owner of El Puente Café for the past six years and is not bothered by the changes springing up on the Southside of Williamsburg. With a business located under the Brooklyn–Queens Expressway at South 4th and Havemeyer streets, he sees varied different groups including hipsters come in and out of his café.
"I can see a black person, a white person and a Hispanic person and treat them all the same," he said. He was very optimistic that his business would flourish with the new clientele of hipsters.
Perez is aware that the Latino community may continue to diminish, but he said that gentrification is a way to create diversity and offers a chance to learn from other people's cultures.
He considers his local clientele a big family in which everyone knows each other. He sees his new customers come in frequently for the daily special of rice, beans and rotisserie chicken, and having a good time. "The change has never affected me drastically," Perez said, waving to a costumer. "It's been a good change. Everything is normal."
The only change that he made to his restaurant was that he put "café" in front of the original name El Puente; Perez said he bought it that way from the previous owner, but other than that the food and people are the same.
On the contrary, the Rev. Jose Gonzalez of First Spanish Presbyterian Church on South 3rd Street spoke of how gentrification has driven the Latinos out of the community.
His church, founded in the 1940s, aims to help local  Latinos keep their culture alive spiritually and financially.
Gonzalez started his career in School District 15 in Brooklyn, then transferred to District 32 at P.S 299 in Bushwick. He now serves on the board for the Williamsburg Charter High School.
Gonzalez said that seeing the limits the school system had for the poor made him want to get more involvedThat led to his mission to maintain the Latino culture in the neighborhood along with other Latino-based non-profit organizations.
"When I was a boy we were discouraged from speaking Spanish, because this was America and this was a shame on you," Gonzalez said. "To raise the Puerto Rican flag at that time meant that you were a rebel."
Gonzalez is very critical of what the Bloomberg administration has offered to the Latino community, especially in the education system.  "He was a good mayor for poor people period; he's not a good mayor for Latinos," said Gonzalez. He said that Mayor Michael Bloomberg took up middle-class causes without helping to stabilize employment for the Latino community.
Gonzalez recalls that the Southside of Williamsburg was unpleasant to live in due to high crime rates. "People like El Puente, like Luis Garden Acosta, Los Sures, they were entities of people that were activist, that contributed for a better quality of life," Gonzalez said.
For the Latinos of Williamsburg, the sense of community has been perishing before their eyes. Gonzalez described the neighborhood as a "city of strangers." Pressed by rising rents, neighbors  either moved to other parts of the city outside Brooklyn or to Pennsylvania or New Jersey.
Gonzalez described gentrification as "a horrible thing," and called it "ethnic cleansing without a gun." Basically, if you cannot afford to live in Williamsburg, you need to move out, he said.
Gonzalez says there is discrimination against Latino businesses in Williamsburg. "If you were running a restaurant and you were selling rice and beans or tamales, you would get a ticket or a bad rating," he said, asserting that all the cafes on trendy Bedford Avenue don't deserve the A ratings that they have.
Gonzalez's main concern is the Latino youth and their lack of urgency and consciousness.
Although he doesn't have children of his own, Gonzalez wants to educate his niece and nephew to have their own ethnic identity.
"I am extremely proud to be Latino," Gonzalez said. "I wear it my on sleeve all the time, 100 percent, 2,000 percent!"
Gentrification has also affected Latinos economically; supermarket products are expensive and rents are high. At the same time, Latino–run businesses that have been around for years such as Mery's salon, barbershops and restaurants, have maintained the same prices to accommodate their daily Latino customers.
Matos said hipsters  – or as she calls them, blankitos – have not come into the salon yet because they feel intimidated about fitting in with Latinos. "They give life to their own people," said Matos.
She recently went to a white-owned café with her brother and was startled to have paid $18 for a regular burger and fries; the bill for two came to $40. Matos shook her head in disappointment. "You go to McDonald's; for $5 you eat!"
Matos believes that the solution is for Latinos to not leave but to stay in the area.
"It's going to get worse, because we have little support from the city," Matos said. "We have Diana Reyna, but we still need more support from our representatives."
Sara Hodges, who is a membership coordinator and community organizer for the Southside Community Garden, calls her feelings about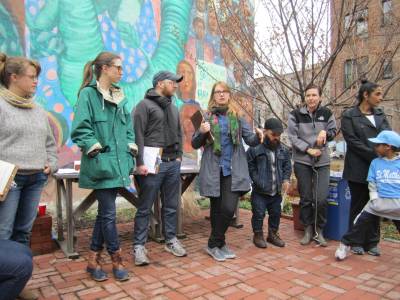 gentrification "very complicated."
Through the garden, she has sought to get involved in the community. The Southside Community Garden has partnered with Reyna and Los Sures with the aim of fostering environmental awareness and a stronger sense of community, similar to El Puente's Green Light District program.
"I'm always happy that people want to contribute," said Hodges, who is pleased to be a part of the community garden spring kickoff.
She has gotten to know her neighbors when they stop by the garden fence. "There's no other way that, that would've happened," said Hodges. "This is awesome, like I'm actually talking with people that have lived here forever, so that's the thing that I love most about it."
Hodges had mixed feelings about gentrification. "I am very aware of who I am and where I come from," Hodges said as she gave out garden membership pamphlets to people passing by. "I'm from Illinois and I moved here nine years ago. I'm not from Puerto Rico and I didn't grow up here."
Hodges said that differences between cultures are inevitable and can't be ignored. She said she's not interested in any kind of hipster takeover – that she wants to help the Latino community in general.
"My gut is to say, no not me!" Hodges said of being categorized as a hipster. "I want clean streets, and I want a pretty garden and I like going to certain restaurants and I'm an artist!"
Photos: Elizabeth Elizalde. Top: The spread at Cafe El Puente attracts long-time Latino residents and hipsters as well.