By PRISCILLA FERRERAS

The family of Brooklyn teenager Kimani Gray, who was killed by cops in East Flatbush in March 2013, is pursuing a federal lawsuit against the officers who shot him and the medics they claim could have saved him.
Police said the two officers fired because the teen was aiming a gun at them, while attorneys for the Gray family point to the medical examiner's report, which found that Kimani's wounds were mostly to his back.
Carol Gray, Kimani's mother, said that numerous witnesses from that night said the teen was denied immediate medical treatment.
"There was a possibility that my little boy could have lived," said Gray. "They treated him like an animal, laid out in the Brooklyn streets to die."
Based on their investigation, prosecutors have decided not to bring any criminal charges against the two police involved in the shooting, Sgt. Mourad Mourad and Officer Jovaniel Cordova. Prosecutors from the office of Brooklyn District Attorney Kenneth Thompson informed the Gray family's lawyers that "that they are not pursuing criminal charges against the [officers] and will not be presenting case to the grand jury," a court document shows.
Since then, attorneys for the Gray family have continued to investigate the case through the lawsuit.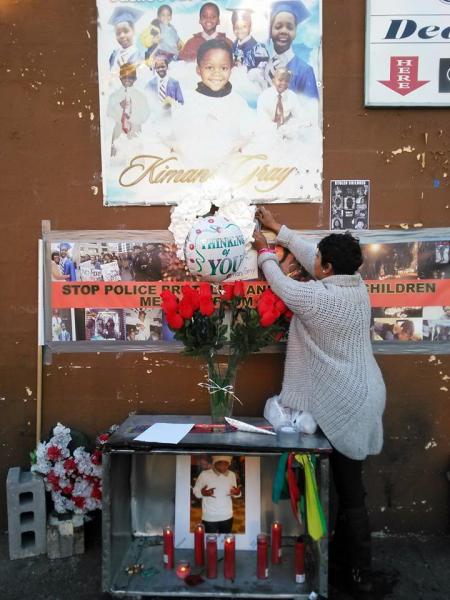 In a hearing held at U.S. District Court in Brooklyn last Sept. 16, Magistrate Judge Marilyn D. Go suggested that the two parties discuss settling the case rather than go to trial. In response to questions about the case, city Law Department spokeswoman Elizabeth Thomas said in a statement that being named in a lawsuit is not an indication of "wrongdoing and neither is settlement."
Mourad was named to receive "Cop of the Year" from the NYPD Muslim Officers Society in May 2014. But after community pressure, Mourad refused the award and did not attend the ceremony, according to the director of the organization, Rayna Anderson.
"There has been a pattern in the Police Department to reward cops who kill black youth," said Alex Vitale, a professor at Brooklyn College who researches urban politics and social movements. "I for one believe the award is an insult to the Gray family and also the East Flatbush community. It seems as though they're celebrating the shooting of an African-American teen, responsible by the hands of Sgt. Mourad."
SEE: `TEACH YOUR CHILDREN: LESSONS FOR YOUTH ON POLICE
The NYPD sergeant and cop involved in the fatal shooting of 16-year-old Kimani Gray have been named in five federal lawsuits, court records show.
Mourad, 31, was named in three lawsuits while working as a plainclothes officer in Staten Island. According to court documents, in one case, a plaintiff claimed that he had been the victim of an illegal stop-and-frisk by Mourad and other police officers. In another case, two men alleged that they had been "falsely arrested" by Mourad and others. A third person charged that Mourad and his team "pulled his pants and underwear" during his arrest.
Meanwhile, Cordova, 27, was once accused of making an "illegal stop" inside a Manhattan building, where he allegedly punched a plaintiff in the face. Another plaintiff sued for emotional distress after Cordova allegedly placed him face down in a puddle while arresting him.
The city has paid $215,000 in taxpayers' money to settle the lawsuits against Mourad and Cordova. City officials say a settlement does not mean they believe the officers committed any wrongdoing.
Both Mourad and Cordova had each been involved in a previous shootings, which were deemed to be within department guidelines.
Police said Kimani was with a group of young men that night, standing in front of a home on East 52nd Street when the officers from the Brooklyn South Anti-Crime Patrol approached. It is said by some witnesses that the plainclothes officers failed to identify themselves. When the officers started to talk to the group, Kimani began acting suspiciously, police said.
Police say that at one point, Kimani grabbed for something in his waistband. He then pulled out a .38-caliber revolver and pointed it at the officers, according to police.
A gun was recovered at the scene, but Gray's family maintains that the teen wasn't armed. A lawyer for the Gray family has questioned the Police Department's account of what happened and said the family wants to know how the gun was recovered. An attorney representing the Gray family says that there was never a picture taken of the gun at the actual scene and that the only photo was of a gun in a box at the police station.
When a lawsuit is filed, \the plaintiff and defendant have to share documents with each other, a discovery process.
A transcript shows that in a hearing last September, a lawyer for the Gray family, Michael Hueston told the judge that his team is waiting for crime scene unit files, such as the 67th Precinct Detective Squad investigation file, the firearm discharge investigation reports, and the Internal Affairs Bureau file relating to the shooting.
The city also doesn't want to release the names of witnesses, due to fear of retaliation. Days after Kimani's death, it was reported in the media that he was a gang member with several arrests to his name, and that he was photographed wearing Bloods beads and appeared in online videos harassing gang rivals. Also, Kimani's two older brothers have an association with a gang, a city lawyer asserted.
Carol Gray said not only is she still fighting to bring the cops who killed her son to justice, but also to stop the slander against her child in the media. Looking down at a childhood album of her son through tears, Gray talked about the fact that her family never received an apology from the Police Department for the slaying of her unarmed, 16-year-old son, and that she is outraged by the constant use of terms like "criminal" and "gang member" used by the media to describe Kimani.
"Why do they never use terms like 'son,' 'student,' 'nephew' or 'friend' in the media?" Gray said. "He was someone to somebody."
Photo, top: Carol Gray with her son Kimani at an early age. (Courtesy of Carol Gray)