By Tywanna Webb
The Fortune Society held a panel Thursday to discuss the effects of solitary confinement and advocate for prison reform policies that would eliminate its use.
"The culture will never change because we are trying to change the culture from the bottom up when it needs to come from the top down," said panelist Ismael Nazario.
Nazario is a former Riker's Island inmate who was arrested as a teenager and spent over 300 days in solitary confinement prior to ever being convicted of a crime. He now serves his community as a prison reform advocate.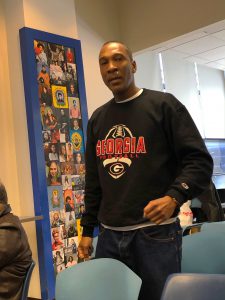 Other speakers on the panel included Vincent Schiraldi, an American juvenile justice policy reformer and former Commissioner of the New York City Department of Probation, and Albert Woodfox, a former inmate and criminal justice reform activist. Woodfox served more than 40 years in solitary confinement in a Louisiana prison and has recently released his memoir Solitary.
The panel was moderated by David Rothenberg, founder of the Fortune Society. The nonprofit helps former inmates reintegrate into society after their release.
Solitary confinement is the practice of isolating inmates in a small cell for 23 hours a day. Many argue the use of solitary confinement leads to the development of mental health disorders.
Nazario says policies must be implemented to ban inhumane treatment of prisoners.
"We have deputies, wardens and other higher positions in the Department of Correction and their mentality is 'If you get out of line, we're going to throw you in solitary confinement'," Nazario said. He said dismissive, aggressive mentality is on display throughout the Department of Corrections, despite some of the recent training policies trying to limit the use of solitary confinement.
Woodfox said correction officers feel invincible because there is no accountability.
"They feel that they can do what they want to prisoners and nothing will happen," Woodfox said. "There will be maybe a few headlines in the paper or on the news, but they know that in the end, nothing will happen to them."
Woodfox called for the implementation of laws that would hold correction officers accountable for mistreating inmates.
The panel was attended by dozens of former inmates who believe that the prison system needs a complete overhaul.
"Correction officers don't listen to you and they just treat you like animals," said Queens resident Troy Arjune. Arjune, who spoke from the audience, became tearful when touching on his incarnation experience. He spent over a year on Riker's Island and was released on March 18.
His passion was echoed by William McKeatan, another former inmate released earlier this month after spending 27 years incarcerated.  McKeatan also spoke from the audience and talked about how he was often sent to solitary confinement for minor infractions such as not eating fast enough.
"It had a devastating effect on me to the point where I almost felt like I couldn't even speak sometimes," McKeatan said in an interview. He says that his longest consecutive stay in solitary confinement was a little over a year.
"I understand that the reason why we are in there is because we committed crimes," McKeatan said. "However I think that while were are in there, we should receive some type of treatment that gives us a sense of humanity and an opportunity to redeem ourselves." He called for a prison system that focuses more on rehabilitation.
The discussion was held at The Fortune Society's office in Long Island City.