Caption: Amani Aruri, speaking at vigil
Caption: Flowers on streets of vigil, representing Women Activists Murdered in Iraq
By Dvorah Nelson
A small crowd gathered outside the UN Thursday morning, showing solidarity with women in Iraq who were targeted and killed for their activism. A moment of silence was held and women from around the world shared stories of abuse and condemned gender-based violence.
"These unfortunate killings do nothing but remind us as youth, that if we didn't have the courage to make change happen, we or our children will face the same fate," said Amani Aruri, a Palestinian advocate of women's rights and a member of the Women's Centre for Legal Aid and Counseling. "Each one of those (murdered) women represented a different form of freedom that is slowly and gradually being looked up to by youth," Aruri said.
The latest Iraqi victim, Tara al-Fares, was a model and popular poster of photos on Instagram, who has over 2 million followers on the popular network. Al-Fares was shot in public through her car window in Baghdad. Su'ad al- Ali, a prominent activist, was assassinated on the street two days before Al-Fares.
Their deaths followed those of Dr. Rafif Yasiri and Rasha al-Hassan, both cosmetic surgeons,   who were killed under suspicious circumstances in their respective homes.
The four high profile Iraqi women shared an outspokenness and their lifestyles challenged the conservative norms of the country.  They had been advocates for progressive change in the Middle East.
Their deaths have sparked fear and has caused many women with public profiles to talk of fleeing the country. Former Miss Iraqi, Shimaa Qasim, has received text messages saying "you're next" as well as Instagram comments saying "you will die." She has shared social media photos of herself in attire some Muslim conservatives might consider revealing. She does not wear a hijab. In a recent Instagram video, she broke down in tears over the recent killings and she praised Al-Fares as a martyr.
A teenager suspected of being gay was also killed recently. His death was filmed as he was beaten to death by his peers.
While violence against women and LGBTQ people is not new in Iraq, the country has been slowly pushing towards more freedom following the starkly intolerant regimes of the past. But changes have been slow and the recent events have made many women and LGBTQ Iraqis more fearful.  Comments hostile to progressive female and LGBTQ Iraqis are still scattered across social media. In a now deleted tweet, a journalist for the state even wrote, "It's just a whore that got killed."
While the news outlet later condemned his tweet, some believe the incident revealed the feelings of many in Iraq.  Prime Minister Haider al-Abadi has suggested that a group may be behind the recent killings, ordering an investigation into the deaths.
Thursday's vigil was marked with a wreath on an easel with the tag "we will not be silenced."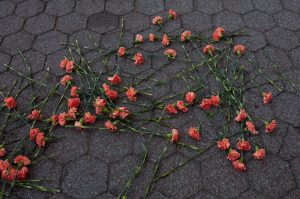 A speaker who identified herself as a representative of Oxfam, an organization that supports international human rights, said. "Even though it is so dangerous [to speak out], it is so important to keep talking. We are here to say this isn't okay. We are here to protect people and we are here to empower people."
Groups organizing the Thursday vigil include included Oxfam, the Iraqi Women's Network, and the High Council for Women's Affair in the Kurdistan Region of Iraq. They want the UN to pressure the Iraqi government to properly investigate the deaths and protect victimized groups.