Caption: Activist Glen Baksh speaks with subway rider. Credit for photos: Benjamin Rubin
By Oscar Montenegro and Benjamin Rubin
Rebecca Bailin, a political director for the Riders Alliance, best summarized what her organization's day of action was meant to achieve: "Legislators will be hearing from rider after rider after rider."
At a news conference Thursday morning in front of the Barclays Center subway station, members of the Riders Alliance urged New York City riders to demand that Gov. Cuomo fix the crumbling train system, which Cuomo declared was in a "state of emergency" in June 2017.
"Never before have riders been called upon to make sure their legislators and Governor Cuomo be held accountable, at this scale," Bailin said.
The Alliance wants New Yorkers to call their local representatives and the offices of Cuomo and demand they pass legislation regarding congestion pricing in the upcoming budget cycle. Congestion pricing is viewed as a way of helping to fund repairs of the subway system.
"We hoped they're annoyed," Bailin said, referring to government officials, "and we hope they're annoyed into action."
When the rally ended, the participants entered the Barclays Center subway station and began interacting with passersby and urging them to get involved and call up their representatives. Many of the participants were holding signs saying, "Too Crowded," "#Cuomo'sMTA," and "Congestion Pricing Now!"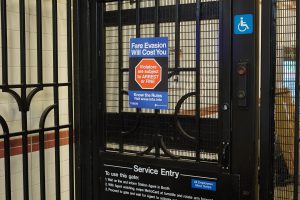 Congestion pricing is a plan that could generate upwards of $1.1 billion annually for transit investment while combating congestion in the city.
One person with the Riders Alliance is Glen Baksh, a semi-retired man who said the quality of the transit system is going down, declared he wants to get it "back on track."
"Nothing gets done by pointing fingers," Baksh said, referencing the ongoing political bickering between Cuomo and Mayor Bill de Blasio, who blame each other for the problems with the MTA.
A man named John Lee, a Harlem resident, spoke with Brooklyn News Service and said he doesn't even bother taking the trains because "they are always breaking down." Instead, he rides the bus, and it's difficult because he has to use a walker with a seat. He plans to call on Cuomo to make the trains easier for riders with disabilities to use.
In grim news about the public transit system, MTA chairman Joe Lhota said the agency's finances are "abysmal" and that the system needs more revenue to avoid a fare hike in March of 2019. If the MTA decides to raise the fares once again, it'll be the fifth hike in nine years, and riders could be paying $3 per swipe on their MetroCards.