By Salamat Ellams, Alexander Parisel and Jonathan Wilson
Consumers have had enough of tech companies like apple, google and amazon having more power than they should, including using our private information as profits. Just a little over two years ago, many believe, Russia used Facebook to help take control the 2016 Presidential election.
Some people are more than fed up. They may in fact decide to support a presidential candidate – um, perhaps like Mass. Senator Elizabeth Warren – who makes a commitment to go after the tech companies and make their share their off-the-chart profits.
Democratic presidential candidate Warren has seen the writing on the wall – or in the tweets – and she has come out and said she will try to break up large tech companies like Amazon, Google and Facebook. Apple, too, of course, is part of Big Tech.
Warren argues that these companies have abused their power. In taking her get-back-tech- position, she is channeling those who believe big tech companies have too much power over the economy, over our society and over our democracy. Give the small companies a chance, they say.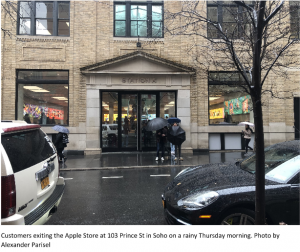 For many Americans, and many New Yorkers, Apple is the tech giant that critics would like to bite – bite so that it shouts ouch.
The Apple store in Downtown Brooklyn, off Flatbush Avenue near the Barclays Center, doesn't like journalists asking people if they think Apple is a good retailer. A reporter for The Brooklyn News Service (that being the Jonatha
n Wilson with a byline here) visited the Apple store to see how Apple consumers felt about Apple products. As he began to ask questions of the customers, he was kicked out by an employee and was told he should go outside if he wanted to question people.
So he did just that. He learned that while presidential candidate Warren and countless other Americans have strong concerns about Apple and other companies, Apple does in fact try to offer personal services to those who like i's with their phones.
He spoke with Kat Lopez, an illustrator with the Fashion Institute of Technology. She got her first iPhone in 2010.
Lopez said that her father's love for Apple is the reason she herself got their products, "My dad is obsessed with Apple," she said. "He wanted everyone to have one."
Lopez said believes no company is perfect. "I believe every company has their flaws I can't think of one that's flawless," Lopez said.
Another Brooklyn News Service reporter, Alexander Parisel, whose byline is also here above, went to Apple Soho in Manhattan, where he met consumers like Jacob Wallace. Wallace is a freelance artist who likes to spend time at Apple stores to get inspiration. (Besides, Apple Soho seems more hospitable than Apple Downtown Brooklyn, when it comes to visitors who want to ask questions of customers. Parisel was not kicked out.)
When asked what he liked about Apple products, Wallace said, "Their products look so cool. I love how Apple uses the white color and emphasizes modernity and progress through it. They're so beautiful. I mean have you seen the hideous products of other companies. Apple is just on another level. Besides, you don't have to be afraid that an iPhone blows up in your face."
Wallace was asked about Apple's new software updates not working well on iPhone 7. He said, "No I don't like that either, but at the same time what can you really do? . . . Just make sure to save some money to buy the new iPhone when it comes out . . . Besides that, I think Apple is fair to their customers. I mean c'mon I get to stay here all day and use their computers without a soul coming to bother me. Can't beat that. If they'd serve coffee here, they'd run Starbucks out of business."